Proximity team wins Carte Blanche contest
The agency's Rebecca Dunnet and Shiran Teitelbaum win big in Astral's creative competition with a Pedigree interactive transit shelter.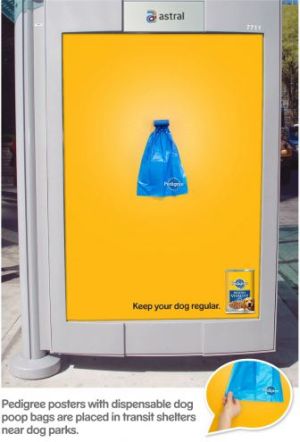 Rebecca Dunnet and Shiran Teitelbaum brought home the win for Toronto-based agency Proximity last night at Astral's second annual Carte Blanche, a contest that challenges creatives from throughout the industry to craft the most groundbreaking transit shelter advertisements they can conceive of, without client input and evaluation.
"It opens up the world of creative possibility free of any constraints," Michael Alexandor, head of media, markets and innovation, Astral Out of Home tells MiC.
This year Alexandor notes the dramatic increase in interactive ideas from participants, noting last year was more focused on 'two-dimensional ideas.'
The winning duo was no exception to the interactive trend, coming up with the innovative concept of stocking shelters with free disposable doggie bags – paid out with the line 'Keep your dog regular.'
Other innovative runners-up included a team from John St., who created the 'Heinz Greenhouse,' a real tomato plant growing between two sheets of transparent glass, and agency Leo Burnett's 'Beat the Bus' for Kellogg's Vector, which used mobile technology to involve transit users in a health challenge.
Not only did the contest evolve in content, but also in size – 1,500 particpants entered this year in Montreal and Toronto, which are decided separately.
'There was a huge representation from most of the agencies across the country,' says Alexandor.
Why compete? Well, besides a chance to exercise their creativity, participants vied for an advertising dream prize, consisting of $50,000 in Astral ad space for their ad if the company chooses to run it (if not, contestants are allowed to substitute a charity of their choice), a trip to Cannes and entrance to the International Festival of Creativity.
Winners Dunnet and Teitelbaum are thrilled with the opportunity. 'It's so amazing just to be among these amazing creatives,' Teitelbaum told MiC, adding that the idea formed naturally after they realized Pedigree was the right client for the ad.