Cathay Pacific lands at Union Station
The Hong Kong-based airline wrapped the Toronto train station from floor to ceiling to promote its newly expanded flight offerings.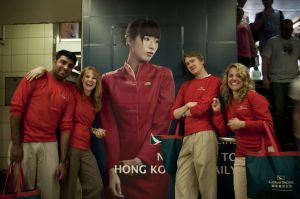 Cathay Pacific launched its newest ad campaign at Toronto's Union Station for the airline's now double-daily flights between Toronto and Hong Kong, with 72 pieces of creative featuring members of staff.
The advertisements with media and creative from the Vancouver office of MacLaren McCann are in keeping with Cathay Pacific's "People and Service" campaign and aim to reach a broader market of travellers, Sarra Gau, Canadian marketing manager, Cathay Pacific tells MiC.
"Union Station is at the heart of Toronto in the financial district," she says of the chosen location. "We felt there was a need to broaden our base a bit. [Union Station] covers both our [targeted] frequent business travellers and also more of the mass market."
The station saw a flurry of Cathay Pacific representatives handing out magnetic airplane mementos to commuters yesterday and early this morning as an effort to create activity around the creative.
Promotional material for the campaign will cloak the downtown station until June 12 and is currently being supported through Chinese radio stations in Toronto, an online banner campaign on BBC, CBC, Olive Media Network and The Weather Network, as well as on the airline's Facebook page.
Prior to the retail portion of the campaign running now, which focuses its efforts toward consumers, the airline ran a trade campaign aimed at travel agents. It advertised a sweepstakes contest in industry magazines as an incentive to boost flight sales, says Gau.