Teletoon orders five new shows
The network has also renewed three others as it hammers out its TV schedule.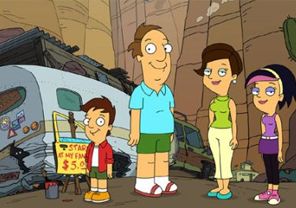 Teletoon Canada has ordered five new series and renewed three others as it continues to hammer out its TV schedule.
The kids specialty channel ordered 13 half-hours of Fugget About It from 9 Story Entertainment, an animated teen comedy originally developed as a pilot for Teletoon At Night in 2007, and now scheduled for a fall 2012 release.
Also coming to Teletoon is six half-hours of Just Kidding Kids, a spin-off series from the makers of Just For Laughs Gags that is aimed at a kids TV audience. Just Kidding Kids is booked for a winter 2013 bow.
And Marblemedia has received an order for 26 half-hours of Splatalot, a kids game show to air on Teletoon's French language channel this fall.
Also in the Teletoon pipeline is Rocket Monkeys from Breakthrough Entertainment, comprising 26 half-hours of a series for 6- to 11-year-olds to debut in fall 2012.
Breakthrough Entertainment also received an order for another eight half-hours of the animated comedy Crash Canyon (pictured) for a fall 2012 broadcast on Teletoon at Night. The latest order brings the total number of episodes of Crash Canyon to 26, which will bow on Teletoon this fall.
And the network ordered a second season of Nelvana's Detentionaire - 13 half-hours to air in fall 2012 – while Cookie Jar Entertainment is to do another 13 episodes of Mudpit, the hybrid music-driven teen series, to air on Teletoon in fall 2012.
From Playback Daily