Burger King stacks up on TV
The male-targeted summer campaign aims to prove the burger chain offers more than just Whoppers.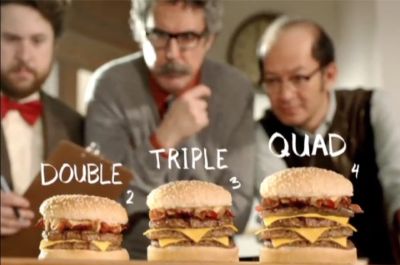 Burger King "hungerologists" are diagnosing appetites and curing consumers of "empty stomachitis" in commercials created by US-based Crispin Porter + Bogusky (adapted by Toronto-based Taxi 2) and with media by Initiative Media, promoting both the modest and gluttonous versions of the Stacker burger.
The month-long TV campaign, launching today, will be aired in French and English on specialty channels, including a screen wrap on Teletoon and 15-second spots on Sportsnet and The Score.
Commercials for the Stacker are targeted to the 18- to 34-year-old demographic, skewing male, and use burger "experts" to help determine which of the three Stacker burgers – double, triple or quad – will best satisfy a consumer's appetite.
The strategy behind the TV promotion, Cameron Loopstra, senior marketing manager, Burger King Canada tells MiC is to market the Stacker burgers at a time when the franchise feels it will perform well (that is, in the summer months).
"The June and July window is a real sweet spot for [Burger King], because people are out and about and looking for that indulgent product," Loopstra says. "What we are trying to do is give solutions for hungry consumers…it's those types of products that are really driving our business."
Loopstra says that consumers know Burger King for its "flagship Whopper" and the promotion of the Stacker just reminds them of the brand's additional burgers that can "satisfy any level of hunger."
"It goes back to making sure we focus on that low-hanging fruit. We want to be known for good quality products that are reasonable."