TIFF brings Fellini exhibition to the streets
From public screenings to social media, TIFF is aiming to expand its reach with its latest campaign.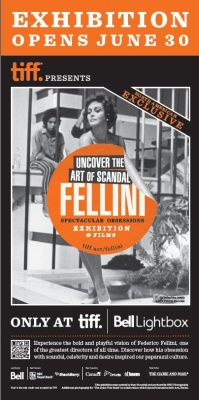 The Toronto International Film Festival has launched a multi-platform campaign to promote the arrival of "Fellini: Spectacular Obsession" to the Bell Lightbox.
Howard Kerbel, VP of marketing, sponsorship and sales, tells MiC he gave the in-house creative team  and media agency Toronto-based  Endeavour Marketing the challenge of creating a campaign that attracted both film buffs who know and love Fellini's work as well as the average movie-goer.
"We took the most revealing photos from Fellini's films and created a unique peel-away execution that when you see the photos you say, 'I have to see what else is going on behind there,'" he says. "Even if you don't know Fellini you will say, 'this is something I want to check out.'"
Print and OOH ads with the tagline "Uncover the Art of Scandal" will appear throughout Toronto and in publications including the Toronto Star, Globe and Mail, The Grid, Now as well as on NYTimes.com, Torontolife.com and WhereToronto.com.
In addition, the campaign is bringing a taste of Fellini to the streets of Little Italy in Toronto from June 30 to July 3 with pop-up screenings developed with Toronto-based Launch! agency. The experiential campaign will see TIFF representatives dress in period costumes and drive around in Fiats promoting screenings of clips from Fellini's films, which will be broadcast on walls throughout the Toronto neighbourhood.
Focusing on Fellini's famed obsessions, TIFF and Toronto-based The Juice Agency is asking consumers to upload images of their own fascinations with a single descriptive word throughout July. The photos will be treated to look like they are from his era and weekly winners will be awarded exhibition tickets. A grand prize winner at the end of the social media campaign will be given Gala tickets to the Toronto International Film Festival, dinner and hotel for one night.
Other promotional elements include TIFF's Fellini restaurant program, which will see 25 participating restaurants create a menu or drink item inspired by the director. Restaurant-goers will receive a two-for-one coupon for the exhibition when they order the item.
Kerbel says creating such a multi-platform campaign was the best way to reach the target audience for the exhibit.
"We know print is the best way to reach our traditional audience, we know we can attract people who are over 35 through that medium," he says. "But we knew to expand the base and to draw in the non-cinephile then we needed to draw in some digital and social media components."
The campaign for "Fellini: Spectacular Obsession" runs until the Toronto International Film Festival begins in September.