Television to go
Programming may now be pocket-sized, but are advertisers and consumers buying in?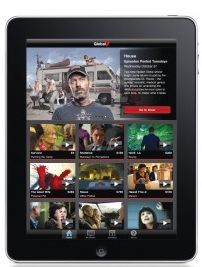 Is 2011 the year that mobile finds its groove? It's starting to look like it, confirms Paul Burns, VP of digital media at Shaw Media, which last winter released Global Television video apps for the iPad, the iPhone and the iPod Touch.
"You're starting to see consumers be comfortable watching long-form content on smaller screens," he says.
Burns, of course, has a vested interest in consumer adoption of mobile TV, but the latest data seems to support his positive outlook.
In June, ComScore released its first MobiLens report on the Canadian mobile market, stating that over six million Canadians now have smartphones, one third (32.8%) of the mobile market in Canada.
Of all mobile users, 14.6% own what ComScore refers to as a "connected mobile device," which includes Kindles, tablets and iPod Touches. Since March, RIM has introduced its Playbook tablet, and many more are expected to hit the market in 2011, so that percentage should grow, Bryan Segal, VP, ComScore, says.
The survey also found that 40.6% of smartphone owners said they'd used an app on their phone, while 32.7% had used its web browser. Thirty-five percent said they accessed news and information on their phones and 13% accessed sports and entertainment news (each).
The report should pique the interest of Shaw, which announced at the upfront presentations in June that it would now be offering bundled pricing on its broadcast content across platforms.
"It's what the buyers have been looking for – a single stop, a single invoice, a place where one spot can get to all the people that are watching," Paul Robertson, president, Shaw Media, says.
Rival Bell Media isn't slacking in the mobile sphere either. This spring, it launched a new mobile TV package – offered to Bell wireless customers and at a commercial rate to other carriers – which includes on-demand programming from its TV assets. In an analyst call for the company's first quarter results in May, BCE president George Cope said the company was  already seeing "great growth early on" for the mobile TV product.
All of this investment in mobile raises the question: are advertisers ready to support it?
"I think it's agencies being more proactive about it, as opposed to clients," says Chris Falkiner, digital director, Carat. "It's more about [agencies] realizing the potential and convincing them to start testing in that space. In the U.S. they don't talk television anymore, they just talk video. And that's the kind of language that we're trying to instill in our clients – if they're going to spend the money developing this great TV spot, why wouldn't you want to leverage it in other places?"
Telecom analyst Kaan Yigit, president of Solutions Research Group, a market research firm, insists mobile TV is, in theory, "nirvana" for marketers, being close at hand for consumers, fully addressable and having location-specific smarts, all of which increase the chances of a consumer clicking through. As an example, it has great potential for QSR brands, Falkiner says.
But, in practice, the promise of mobile TV as yet exceeds reality. "We're seeing a lot of 'let's try this to see if it works' right now and not really huge budgets or time commitments. It's some apps, some in-app ads, a bit of short video and very little SMS-based," Yigit observes.
Broadcasters and media professionals concede there are barriers to wider use of mobile TV, such as the calibre of content and cost.
"The question will be when the right type of video content will be more economically accessible for Canadians," says Robin Hassan, digital group director, Starcom. "Carriers have been making some good strides to make this a reality in the past 12 months, and we're expecting that if continued, it will really start to move the consumption needle in 2012 and beyond."
Successful content strategies to date by mediacos have included Bell Media's CTV News and CP24 apps, popular with drivers for traffic and weather updates, and live TV events like The Masters golf tournament. If anything, the heavy TV sports viewing by BCE's mobile phone subscribers during the 2010 Winter Olympic Games helped convince the phone giant to acquire CTV.
Raja Khanna, a pioneer in bringing video to the mobile platform with Quickplay Media before co-founding GlassBox Television, says supply and demand is still a problem for mobile video content.
Quickplay Media, which facilitates mobile broadcast for clients such as Global TV, and CBC, confirms there are 1,025 hours of on-demand mobile programming available in Canada, and 3,500 hours of live TV per week.
However, "there's not a lot of quality mobile ad inventory at the moment," Khanna insists.
"When audiences do start to truly adopt this channel, advertisers will certainly be interested in following," says Starcom's Hassan. "The big opportunity for the industry will be in looking at how the ad canvas can be evolved to ensure it respects the mobile video user experience while having a minimal impact on ad production.  Ad solutions that encourage engagement and appropriate targeting will be critical to ensure ads in this more personal environment will add their own entertainment value to the consumer."