App-etite: Sympatico.ca joins the mobile crowd
The Bell Media-owned site launches a free, bilingual smartphone app with advertising opportunities.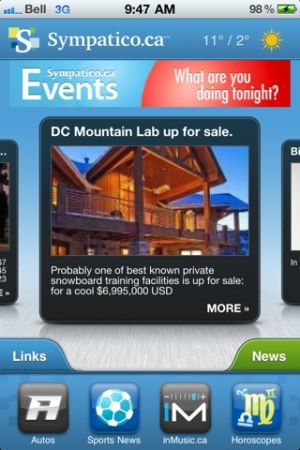 Sympatico.ca has launched a mobile app for iPhone, Blackberry and Android with an integration of QR code technology and location-based services.
The news and lifestyle site will promote the app on its homepage, across Bell Media properties as well as through social networking channels, David MacPhie, associate director of mobile products, Sympatico.ca tells MiC.
There will be advertising opportunities for brands within the app as standard display banners and expandable rich media ad units, says MacPhie.
"Advertisers can target by homepage or specific content category," he adds. "There is age and gender targeting along with the usual mobile targeting capabilities like device and carrier. Soon, GPS-initiated location targeting will be launching to complement our current geo-targeting capabilities.
Tell us about the app: Why did you develop it and what does it do?
Sympatico.ca content has been available on the mobile web for some time now and this app combines that content into a single destination.  Being in mobile is about access and convenience.  There are also location awareness and social sharing features. Users can create a profile which customizes content based on preferences.
What makes this app unique and different to any other apps on the market right now?
First and foremost it's Sympatico.ca content and the fact that it's bilingual. The app also leverages a combination of native functionality as well as mobile web which allows it to be nimble, and introduce new content quickly without requiring users to download an update every time a new section of the portal is added to mobile.
Why did Sympatico.ca choose to include QR-code technology in the app?
QR codes are everywhere, and consumers often need separate software to read them. We saw an opportunity to remove the barrier to quick adoption by including this functionality in the app.
How do you see the app evolving going forward?
More content will be added, plus usability enhancements will be implemented based on user feedback. Sympatico.ca will also continue to create innovative advertising opportunities to enhance advertiser value and deliver a great customer experience.