Koodo Mobile leads in radio: Media Monitors, Aug. 8 to 14
The cell phone provider claims top spot in both Montreal and Toronto markets.
Koodo Mobile climbs to the #1 spot on Toronto's radio ad buy charts from last week's third place position, reports Media Monitors in its Aug. 8 to 14 edition.
The move pushes Ontario Tourism and Sleep Country Canada down to their respective #2 and #3 spots.
BMW X1 makes a jump to the #8 spot on the charts, up from previous #37 and Sears shifts up to the #9 from its previous #23 spot.
In Montreal, Koodo Mobile holds onto the #1 spot and Hyundai makes an appearance in the #2 spot, knocking mattress retailer Dormez-vous to #3.
Additional newcomers to the chart include Montreal Impact at #5 and Ford Lincoln Mercury at #7.
Toronto:
By brand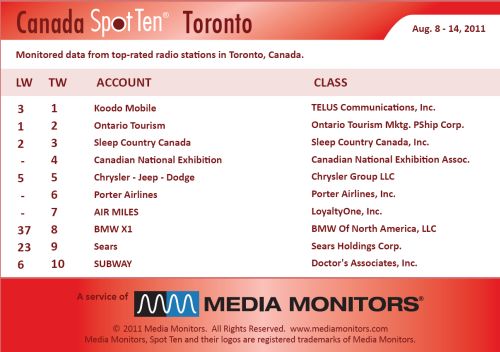 By category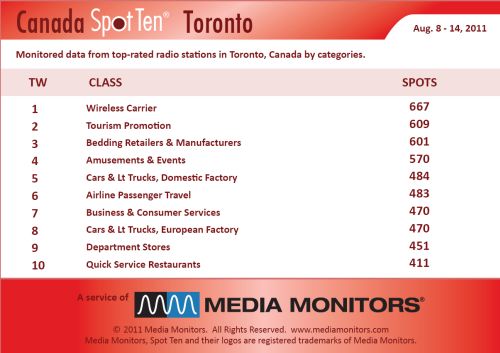 Montreal:
By brand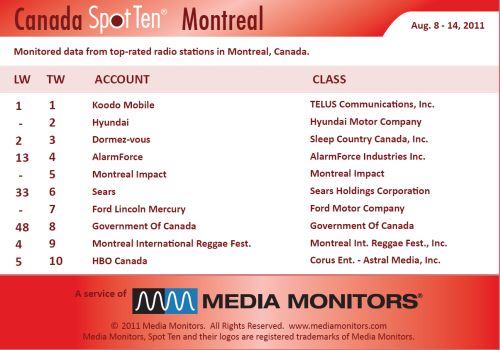 By category