Notes from the Mediascape: Cadbury skips the QR code
The confectionery co is the first to use Blippar technology, which removes the need for QR codes on smartphones.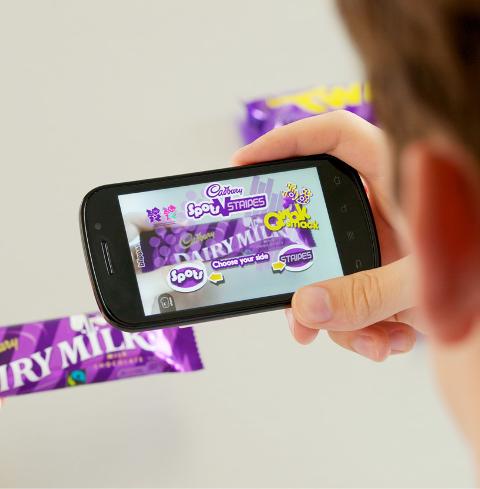 Cadbury is trying its hand at augmented reality (AR) with the help of Blippar – a UK-based company, launched early this summer, which provides brands with a new technology that challenges the two-dimensional abilities of QR codes.
Blippar has partnered with Cadbury on the launch of its AR-based app that can be downloaded to Android or iPhone platforms. Users can scan the brand's chocolate bars and watch as the packaging instantly transforms into a game, entitled "Quak Smak." Users can interact with the chocolate bar as it appears in a live 3D environment with sound, video and graphics.
The game is part of Cadbury's broader "Stripes vs. Spots" campaign to promote its sponsorship of the London 2012 Olympics. The focus is online, with a website for consumers to visit and participate in games against other users to win points for either team stripes or team spots – they get to choose which one they want to be a part of.
Ambarish Mitra, co-founder and CEO, Blippar, tells MiC that consumers have an increasing need for more information that can be delivered at a fast pace, adding that the app can help a brand support its existing promotional print material.
"Brands will spend a lot of money to create ads," says Mitra. "The app supports their [advertising platform] and creates an instant piece of information, right at the user's disposal. The purpose is to bridge their offline media with their online media."
The Blippar app allows users to interact with a product and physically test out its features. For example, Mitra says that an ad for watches can be transformed into 3D product trial where the consumer can "wear" the watch being promoted – that is, through the screen of their mobile phone.
The platform is location-based and therefore allows global brands to alter the message to target different markets and deliver local content such as where to purchase the product, says Mitra.
"When consumers scan [a brand's] image in Canada, they would see a different experience than those in England," he adds. "The user gets something different, based on the time of the day and their location."
While Cadbury is the first on board to implement the technology, Mitra says that there will be more brands added to the list each week.