Quaker launches charitable game
The PepsiCo brand plays with consumers on Facebook to feed hungry Canadian families.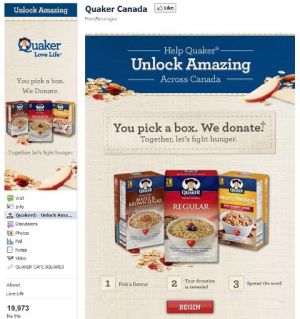 Quaker has launched a cause marketing campaign that invites consumers to help the PepsiCo brand reach its goal of one million cereal bowl donations through interacting with its social media game.
Quaker created a Facebook game that allows users to select their favourite flavour of its instant oatmeal. Once chosen, the brand will automatically donate between one and ten bowls of cereal to Food Banks Canada.
"This is probably the biggest campaign that the brand has done from a cause standpoint and it is something that we plan to invest more in going forward," Michelle Crowley, senior brand manager, Quaker, tells MiC.
The campaign is targeted to moms aged 34-to-55, and since its launch yesterday, the game has already received close to 4,000 plays, says Crowley.
Promotional efforts were planned by OMD with Juniper Park on the creative and include digital ads, as well as an in-store component, with Quaker donating a box of cereal for each of its products bought in participating stores. The campaign is set to run from Oct. 16 until Nov. 20.
The campaign was spurred on by an online survey conducted by Quaker that revealed that 54% of Canadian teachers polled admitted to purchasing food for a student they believed to be hungry, with two-thirds of participants saying that they teach children who come into class without eating the first meal of the day.
"We really wanted to see from a teacher's point of view if this is something that they are seeing and are being affected by in the classroom," she says. "This is something that Canadians across the country can relate to and the results were compelling enough for us to bring the campaign to life."