CBC, Bell Media to jointly bid for Olympic broadcast rights
The two submitting a bid to the IOC for exclusive Canadian broadcast rights to the 2014 and 2016 Games.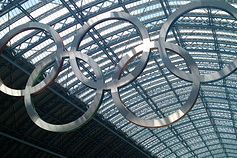 With Rogers Media having left Canada's Olympic Broadcast Consortium, the CBC has stepped forward to jointly bid with Bell Media for the 2014 and 2016 Olympic Games.
The partnership will submit a bid to the IOC for the exclusive Canadian broadcast rights to the 2014 Olympics in Sochi, Russia, and the 2016 Games in Rio de Janeiro, Brazil.
"The Olympic Games are a premium property that requires a strong partnership in order to deliver the level of experience that Canadian viewers and advertising partners now expect," Bell Media president Kevin Crull said in a statement.
The CBC/Bell Media bid will be made separate from the Canadian Olympics Broadcast Consortium, in which Bell Media has an 80% stake, and Rogers withdrew its 20% stake.
Bell Media and Rogers will still partner on coverage for Canada of the 2012 Games from London, England.
From Playback Daily