Spotted! At TIFF: Globe and Mail rides in style
The publication promotes its sponsorship and style section with a decked out bus and free swag.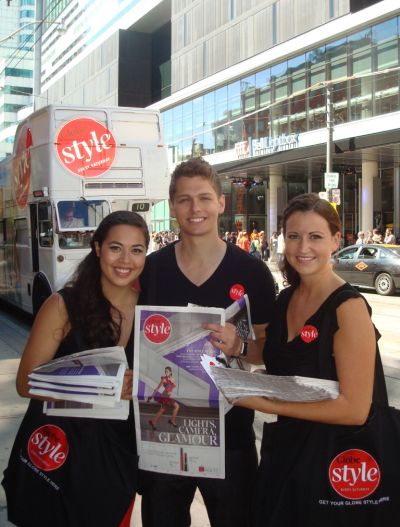 The Globe and Mail has been seen strutting around at this year's Toronto International Film Festival with an eye-catching Globe Style double decker bus. Director of marketing Sean Humphrey tells MiC the bus is working as a sophisticated mobile billboard to promote its glossy style section of the paper, which launched last October.
"This is the first festival occurrence that we have had to promote the property since the launch and it aligns very well with the demographic that is attending TIFF," he says.
The bus, which has been transporting the Globe and Mail's team members from Roy Thompson Hall to the TIFF Bell Lightbox since Sept. 9 and ending today, was created by Free For All Marketing.
At each stop, ambassadors hand out free Globe Style sections of the paper, subscription offers as well as complimentary beauty products to its target audience of 25 -to 44-year-old females, says Humphrey.
"We wanted an activation that is mobile, impactful and in keeping with the Globe and Mail style," he says. "It's something unique and cuts through the busyness of the fest."
Additionally, the daily newspaper has provided all TIFF delegates with branded lanyards and has implemented night projections, executed by Gaggi Media and Naked Creative, within the Theatre District area of the city in an effort to promote its sponsorship, he says.