Clarity Outdoor Media adds a face
The mediaco has placed a new LED and Trivision board for clients CBC and Capital One near the Gardiner Expressway.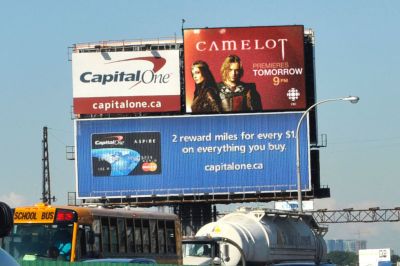 Clarity Outdoor Media Inc. has placed a new 32.5 x 21.8 foot LED and Trivision billboard for Capital One and CBC on its Gardiner Expressway and Strachan Avenue location in Toronto.
According to a release, the mediaco signed a 15-year signage agreement with The Board of Governors of Exhibition Place earlier this year. The location reaches approx. 160,000 consumers travelling westbound from downtown Toronto.
Advertising options on the new LED board include full-motion video or static digital ads.
"This remains not only one of the largest and most recognized advertising signs on the Gardiner Expressway, but also one of the very few highway locations permitted for full-motion video advertising," Daniel Patlazhan, marketing manager, Clarity Outdoor Media said in the release.