Citytv gets 24/7
The Rogers Media brand enters the round-the-clock news game in Toronto.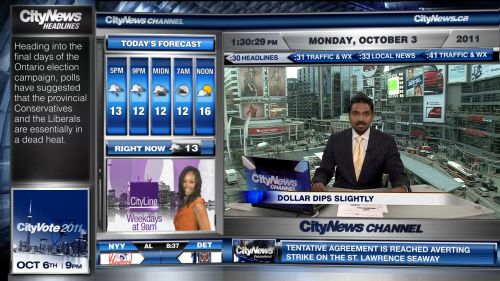 Rogers Media has launched Citytv News Channel, a round-the-clock news channel in Toronto.
The station marks the first time the brand has had its own news channel since Rogers Media purchased Citytv, in the deal that saw the now-titled Bell Media purchase Chum Media in 2007. At the time, Citytv was running CablePulse 24, now known as CP24.
Mitch Dent, executive VP, Rogers TV sales, tells MiC the new channel, which is launching on channel one for Rogers Cable customers, is best suited to advertisers who are looking to target a Toronto-specific audience.
The station will leverage all of the Rogers Media properties, with sports coming straight from the Sportsnet desk, entertainment from Hello! Canada and radio station 680 News being fully integrated into the format of each news day.
"We are using the wheel concept from 680 News," he says. "You will see traffic on the one's, and sports at 15 and 45 minutes every hour."
Dent says the station is being promoted across Rogers Media properties, with a larger campaign in the works for the new year.