Laineygossip.com revamps
The re-designed blog site has been complemented with new advertising units.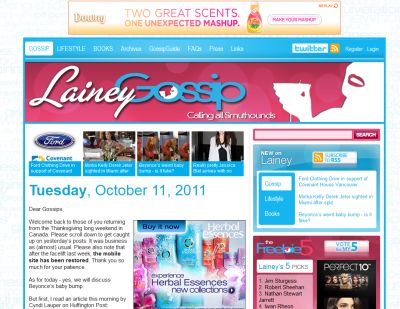 Canadian celebrity gossip and lifestyle site Lainey Gossip has gone under the digital knife for a facelift.
Through its redesign, the scandal and rumour-filled site is now more streamlined with easy navigation through articles, larger image thumbnails and a new LifeStyle section, accessible on the top menu bar. Also on the list of improvements is the newly renovated Lainey Gossip mobile site with the release of an app in the near future.
"The previous version of LaineyGossip had been around since 2007. That's a long time in web years," Jacek Szenowicz, managing director, Lainey Gossip Entertainment, tells MiC.
"So we needed a facelift, but also wanted to upgrade the site's infrastructure and user experience," he adds. "The new site is faster to load and easier to navigate than before and will allow us to plug in new features without having to re-work as much of its infrastructure like we had to do [in the past]."
Advertising on the site has taken on a new look as well, with new site-wide push-down units below the home page header and above the search function, says Szenowicz.
"[The ad units] will be 50 to 60 pixels tall by default and expand on mouse-over when there's an active campaign trafficked against it," he says, adding that the new design has also incorporated a larger wrap-around background for brands to utilize.
The gossip blog site receives 150,000 unique visitors per month, according to comScore.