Vancity invests to 'Make Good Money'
The Vancouver-based credit union launches a campaign that focuses on giving back to the community.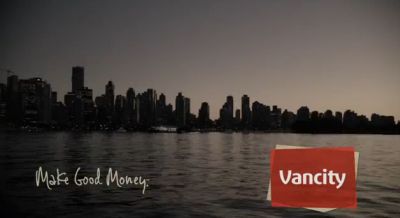 Credit union Vancity has launched a campaign developed and planned by Vancouver-based Wasserman + Partners Advertising that aims to "Make Good Money" for local communities.
Vancity is encouraging consumers to open an account, make a deposit or purchase a mortgage by promoting the fact that it is donating 30% of its profits to initiatives in local areas of Vancouver.
For example, Vancity has provided financing to house low-income men and women in Surrey, BC, as well as funds for asset purchases and renovations for a bakery, and has also provided a company with the capital to expand its green footprint.
Vancity is promoting the campaign through "hyper-local" creative, with a number of TV spots being aired during local programming such as the Canucks hockey games, in print community newspapers such as Metro, as well as on local Vancouver websites and in transit locations, Andeen Pitt, VP of media, Wasserman + Partners Advertising, tells MiC.
"We are trying to roadblock news stations across the board. We will be where the people are, where they travel and right in the community," she says. "[The campaign budget] is significant and can be compared to that of any big bank advertising program."
The ad creative includes Vancity employees and members communicating what the credit union is doing for the community. There is a wall domination within Vancouver's Broadway Station that consists of a mural containing QR codes that, when scanned, drive to the Vancity website where stories of initiatives are shared.
Pauline Hadley-Beauregard, VP of strategic services at Wasserman, says that because of the magnitude of the subway takeover, whether people use the QR code or not, they will still get a feeling of the size and number of positive stories that are out there.
"Vancity has not been in the market, in the advertising perspective, for a number of years," says Hadley-Beauregard.
"They knew that it was a well-loved, community brand, but people didn't really recognize it as a strong financial provider as well," she adds. "We wanted to bring these two together. This campaign is core to what Vancity is really about."