Voters put MPs in the hot seat on #FAQMP
iChannel's new interview program fully incorporates social media into its production.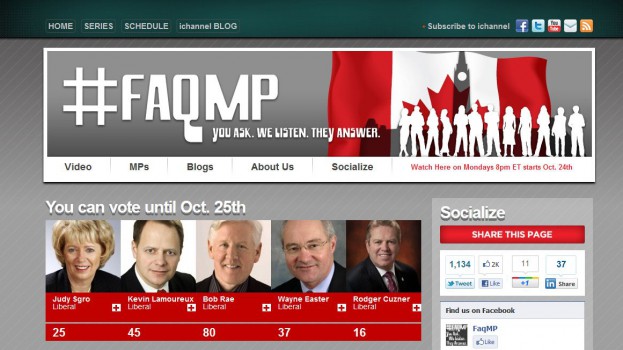 Some members of parliament just don't want to be voted on.
Ironically, that was one of the obstacles to putting together #FAQMP, a new iChannel show where the audience gets to decide which MP will be interviewed each week by the show's host and co-producer, Karyn Pugliese.
The web and TV series premiering Monday night embraces social media in the production process in that it casts MPs who are picked from a five-person block by voters each week online. Viewers also send in questions that Pugliese poses to the federal politicians.
"There is a small group of MPs out there who said, 'We don't want to be voted on,'" says Pugliese, about the difficulties of the pre-production process  in such a format, where MPs are asked to keep their schedule open even though they may not be interviewed. "I find that very interesting, we said … 'But you're an MP … this is kind of what you do for a living,'" she laughs.
Other politicians, however, embrace the format by getting in on the social media promotion themselves, for instance by tweeting to their follower to go and vote for them on the show's website.
The program is financed solely by the political affairs channel, which is owned by Stornoway Communication. The company's president and CEO Martha Fusca "wanted to see something that would really harness social media and would be interactive, because she feels that's a place where she would like to see iChannel going," Pugliese says.
Four episodes have been taped so far, the first of which will feature Dean Del Mastro, Parliamentary Secretary to the Prime Minister and MP for Peterborough, Ontario. Upcoming interviewees, for which viewers were asked to send in questions on the show's site last week, include the Liberals' rising star Justin Trudeau and Tory immigration minister Jason Kenney. Some have won their interview with as many as 1,000 online votes, says Pugliese.
Viewers can watch the show as it's streamed online and they can take part in a live chat with the series production team. Videos and photos can be uploaded on the #FAQMP website, and politicos can also interact with the series on Facebook, Twitter, YouTube and Flickr.
"I think it's a wonderful thing about democracy that we do have these MPs who are willing to take this kind of risk, come on a show they've never seen where people are going to throw any questions at them," says Pugliese.
Although #FAQMP's audience includes some active university students, so far the fans who most interact with the producers tend to skew older, Pugliese says.
"We though that we might get a younger audience," Pugliese says. "But a lot of the people tend to be – and I think this is sort of true of Twitter –  30s and 40s."
Advertising and sponsorship opportunities are available around the show, according to a company representative.