Realtors put DIY-ers to the test
The Greater Montreal Real Estate Board has created a microsite that questions unlicensed property buyers and sellers.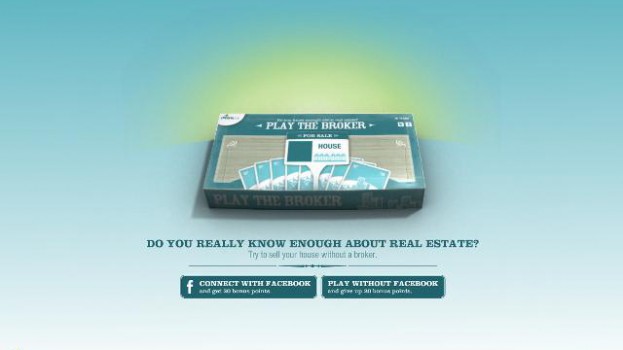 With the emergence of do-it-yourself real estate websites, there has been an equal flux in buyers and sellers looking to make property transactions without the help of brokers.
The change in roles is what spurred the Greater Montreal Real Estate Board to team up with creative agency Lg2 to create an interactive microsite that warns users of the traps they might encounter when entering the real estate water without a broker, Alexis Robin, director, interactive, Lg2 tells MiC.
Playthebroker.ca asks players five tough trivia questions relating to real estate. When answered correctly, they are rewarded with broker intelligence quotient points. If need be, they can ask their friends on Facebook for help or pick a broker advice card. At the end of the game, players are encouraged to share the game on Facebook or better yet, reach out to a broker who can aid them with their real estate needs.
Touché!PHD planned and placed ads on Centris.ca, the Quebec equivalent of Ontario's MLS site, as well as print ads in relevant home improvement and real estate-focused magazines. TV bumper ads reveal a broker trivia question and drive viewers to the website once the answer is given. Radio ads were also planned with a drive-to-web component.
"There is a need to convince the population that brokers have a role to play in the transaction," says Robin. "We educated our target audience on the added value of brokers in a highly engaging and entertaining way."
Robin added that such engagement will help to curb consumer attitudes and, ultimately, behaviors.