Government of Canada makes top radio purchase: Media Monitors, Oct. 17 to 23
The Bay takes the lead with a two-place move up to #1 in Montreal.
According to the latest Media Monitors report, the Government of Canada, for the second consecutive week, has purchased the most radio airtime in Toronto for the week of Oct. 17 to 23.
Bell Bundle and the CIBC moved slightly upward to the #2 and #3 spots, respectively. There was a big move for The Home Depot as it jumped 15 spots to #4, and The Real Canadian Superstore made an appearance at #9.
In Montreal, The Bay climbed up from #3 to #1, while the Government of Canada remained in the #2 spot and HBO Canada made a shift to #3 from #5. Volkswagen leaped from #99 to #7 and newcomers to the list include the Board of Trade of Metropolitan Montreal at #8 and Reno-Depot at #10.
Toronto:
By brand
By category
Montreal:
By brand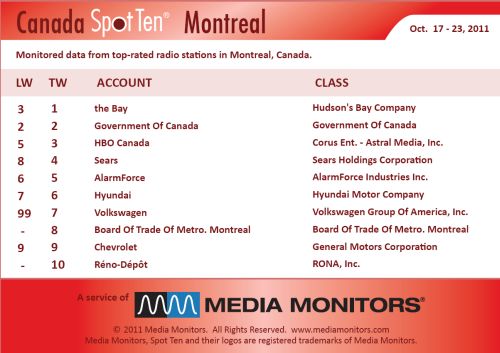 By category