Spotted! Clancy's Meat Company gets bullish
The Vancouver-based butcher franchise stops pedestrians in their tracks with a stunt aimed at communicating its forte.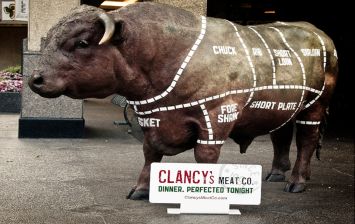 Clancy's Meat Company has taken the bull by the foreshank, sirloin and the chuck in a stunt that demonstrates the butcher franchise's specialty.
The company and Spring Advertising recently transformed downtown Vancouver's Royal Sweet Diamond bronze bull into a map with sections of its body marked with glue-less vinyl transfers, mimicking a three-dimensional butcher's diagram.
When the British Columbia brand opened its doors in 1997, fresh and frozen meat was its bread and butter. Then when restaurant exec Paul Monger acquired the butcher franchise in 2008 he proposed a business model alteration. His solution to the changing needs of consumers was to offer a variety of products, such as appetizers, ready-to-eat meals and even dessert. In the next five years, the meat co plans to deliver a slew of new store locations, with a number of them in city centers in Vancouver, Ontario and other parts of Canada.
The goal of the stunt was to create awareness of the brand as it builds its presence in urban areas and to show consumers that at the end of the day, even though they may have a variety of meal options, the company's specialty is meat, Emily Oliphant, account coordinator, Spring Advertising, tells MiC.
Oliphant adds that this is a step away from what they usually do when it comes to advertising, in the past it has focused on in-store activity and flyers.