CTV promotes its new breakfast show
The Bell Media-owned channel launches a comprehensive campaign in Western Canada for its Morning Live show.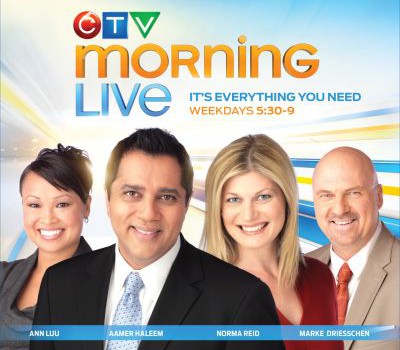 CTV is waking consumers up with a widespread campaign in six cities across Western Canada to support its new breakfast show, CTV Morning Live, targeting women aged 25 to 54.
With the show launched already in Regina, Saskatoon, Calgary, Edmonton and soon in Vancouver (Nov. 14), the channel is shining a spotlight on the three things that Canadians look for when they get up in the morning – news, traffic and weather, Sandy Fraser, promotions manager, CTV tells MiC, hence the show's tagline, "It's everything you need."
"When you look at all of [the pre-existing morning shows], they tend to be exactly the same; there is a picture of a friendly smiley hosts with the show, date and time," he says. "What we wanted to do was provide a clear and distinct message with a benefit to consumers to watch our product over somebody else's."
"We realize that you don't have a lot of time. But, you'll be able to get all the information that you need in a quick, concise and friendly way on CTV Morning Live," he adds.
Simple and to-the-point ads were created for the campaign by Bell Media's in-house team. All three pillars (news, traffic and weather) are showcased, with the print and digital ads providing images of the show's co-hosts to give the ads a splash of personality, says Fraser.
The four-week campaign will be rolled out in two stages with the first including TV and radio promo spots and half-page, full-colour ads in local newspapers. The focus for the first phase was on the show's tagline and it was executed last week in each city and next week in Vancouver when the show launches.
The second phase, which launched this week, has customized newspaper advertisements in each market, an OOH billboard component, radio ads on Bell Media and additional stations, as well as TV spots and online ads.