Notes from the Mediascape: Reebok and Crossfit enter another dimension
The sport and fitness brands break a Guinness World Record for the largest 3D painting in London.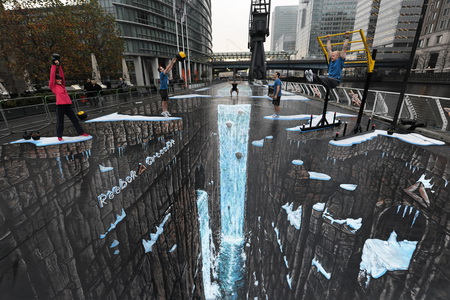 Reebok and Crossfit made a record-breaking statement last week. With the brands still shaking hands from the partnership deal they made earlier this year, they took to the streets in London, UK to create the world's largest and longest 3D painting.
The 1,000-square-meter artwork, designed by London-based artists 3D Joe and Max, was unveiled on Guinness World Record Day last week and topped the previous record held by a Chinese artist.
The piece depicted a daunting scene with cliff edges and perilous drops. Not only was the artwork a visual treat, but also interactive in that the brands had placed kettle bell swings and pull-up equipment for visitors to try while standing on the edge of the painted cliffs. Photographs of visitors and their extreme workout have been added to Reebok's Facebook page.
"We created an interesting, visually stimulating environment to encourage people to explore this movement," a Reebok and Crossfit representative tells MiC, referring to the strength and conditioning Crossfit program.
Aside from taking the time to break world records, Reebok has also sponsored the Crossfit Games, where the brands search the globe for the "Fittest on Earth." They will also be launching Reebok Crossfit gyms in different parts of the world as well as a new line of shoes.