Ivivva Athletica gets in on the festive promotions
The Lululemon brand partners with Family.ca for its first holiday promotion to put its clothing in the hands of Canadian youth.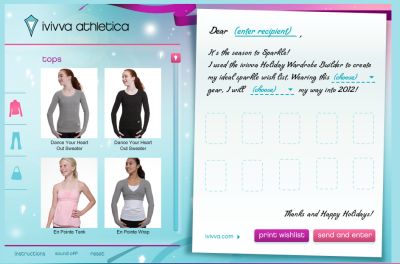 Oh, the tweens are going to love this. For the next month, Ivivva Athletica (Lululemon's junior line) has partnered with Family.ca and is giving Canadian youngsters – specifically those aged four to 14 – an online tool to mix and match the brand's clothing to create a holiday gift guide.
The promotion, which ends on New Year's Day, can be found in the contest section on Family.ca and will be supported by 10-second spots on Family Channel, as well as ads on Astral Media's network of websites including Disney, Kaboose, DisneyJunior and FamilyFun.
Visitors can choose up to ten items from the brand's newest "Sparkle" clothing line and then email the wardrobe wish list, along with a charming note, to a family or friend.
This is the first promotion for the young brand, having only launched in 2009, and it partnered with the Family.ca as their research showed that  tweens spend a lot of time on the site, Kellie Davidson, brand manager, tells MiC.
With standalone stores already in Vancouver, Calgary and Edmonton, the brand plans to launch more stores across Canada and in the US in the new year.