How to be a record-breaking brand
MiC speaks with Guinness World Records and UM's Shelley Smit about the value of creating the largest cakes or having the most Facebook likes.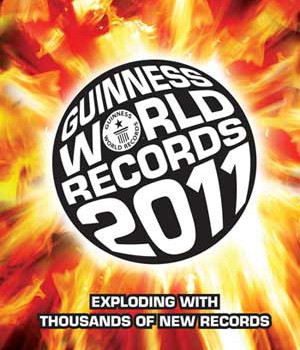 Breaking a world record is often on top of a marketer's brainstorming list, Stuart Claxton, US spokesperson for Guinness World Records, tells MiC, adding that there is an especially high interest from brands in breaking mass participation records or creating the largest of a particular item.
In fact, says Claxton, the organization can see up to 5,000 record-breaking claims from brands across the world every year. And North America is by far the leading geographical area from which claims from brands are received, he adds.
In the last year, MiC has reported on some of the "largest" brand record-breaking moments such as the 21,000 lb ice cream cake, whipped up by over 100 "cake experts" for Dairy Queen Canada and the recent creation of a 1,000-square-meter 3D painting on the streets of London, UK for Reebok and Crossfit.
Late September saw a Canadian acrobat complete 12 chin-ups while positioned in the shape of a human pyramid at an event for Vaseline's new product line for men.
And while many have succeeded this year, some have not. The not-so-pleasant Twitter standoff between cookie brand Oreo and rapper Lil Wayne proved just how easy a feat it was to break some records if you have a couple million fans to back you up.
Shelley Smit, EVP and managing director, UM Canada, tells MiC that when executing a stunt that has the potential to harness a significant amount of buzz, the brand must figure out just how it plans to have the record-breaking news reach all points of the globe.
"There is a lot of consumer engagement for those who are lucky to be in the vicinity of an event like this," she says. "[A brand's] digital strategy plays a huge role. It's one thing to say that you are going to break a world record, but you want to also focus on the visual aspect of the stunt. It's not about the few hundred people that get to see it in real life; it's about those that share it online."
She also believes that the execution should be a natural extension of the brand and an expression of its core ideals.
"The execution itself should feel natural – what that brand has already been communicating, but to an extreme," says Smit. "[World records] are usually done for earned media, for viral aspects, for the buzz and for social sharing online."
"But at the core it has to make sense for the brand, it can't be a stunt for stunt's sake," she adds.
Claxton says that Guinness World Records, the most popular authority in terms of record-breaking with a recognition rate of 97%, can deliver value in terms of exposure, ad equivalency and impressions.
Just this year, the organization garnered $35 million worth of publicity and just under four million impressions worldwide.
"People not only think of us in terms of the options we present in record breaking, which is as many as your imagination can muster, but also the strength and muscle in terms of the awareness level we can generate," he adds.
Brands with some spare change can break a world record for a starting price of around US $10,500, says Claxton. That includes an adjudicator to verify the record on-site of the live event, the licence to use the logo on any promotional material, use of the organization's marketing department to aid in creating buzz, as well as guided information as to how to successfully go about making history.
But the actual act of breaking the record is free of charge, he adds.