Harry Rosen broadens target for holidays
The CEO of the men's brand tells MiC why it goes OOH to reach gift-givers during the festive season.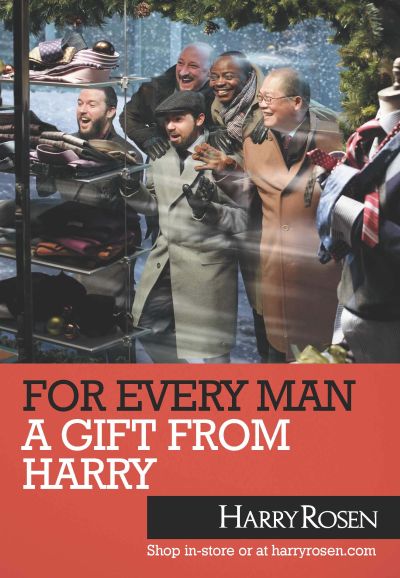 Much like a little blue Tiffany box, a package from Harry Rosen is something people want to be able to put under the tree for their loved ones this holiday season.
That's why the company is putting itself out there with a new cross-country campaign, Larry Rosen, CEO at Harry Rosen tells MiC.
To reach beyond its traditional target market of high-income males over 20, Harry Rosen has launched OOH billboards in each of its seven Canadian markets with the tagline "For Every Man, A Gift From Harry." Media on the campaign, which appears in cities including Toronto, Edmonton and Vancouver, was done in-house with creative by Dave Hamilton and Bob Goulart of Grip Limited.
"I think that you can communicate in one fun picture very clearly what we are trying to say," Rosen says on the benefits of OOH. "Harry Rosen has used OOH for the last four to five years as one of the key ways of communicating. We used to have Santa looking in the window aspiring to buy something from Harry Rosen, guys looking like little boys, gawking at something that they want. This year's campaign has a Norman Rockwell feel, we're trying to have a little fun with it."
Rosen says the brand's holiday campaign also includes 450,000 direct mail pieces, which are selected by targeting postal codes, rather than directly mailed to known customers as they are usually done throughout the rest of the calendar year.
"The holidays are a time when a lot of people want to share a brand like ours with a loved one," he says. "Harry Rosen is a brand that represents the luxuries of life, people want to buy it and say they bought something very special."