She Takes On The World wins Digital Launch Pad
MiC speaks with judge Matt Di Paola of MediaCom on the winning web destination and the importance of the program to the industry.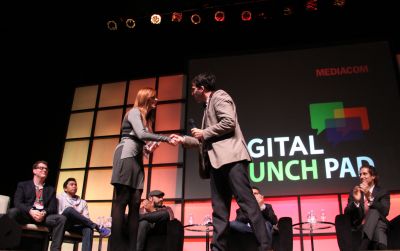 Nathalie MacNeil, founder and editor-in-chief of She Takes On The World, snagged the top Digital Launch Pad (DLP) prize for her female-focused digital magazine yesterday at the  nextMEDIA conference in partnership with MediaCom.
Six finalists were given a brief six minutes to woo a panel of judges and nextMEDIA guests with a business pitch that was subsequently voted on by the conference attendees through a live text and web polling system.
The Emmy-award winning producer walked away with the trophy for her winning pitch that touched on the successes of her digital magazine for career-minded women and female entrepreneurs. The site has also recently been recognized by Forbes as one of the "Top 10 Entrepreneurial Sites for Women."
MiC caught up with Matt Di Paola, chief strategy and innovation officer at MediaCom Canada and one of the DLP judges to find out why he believes She Takes On The World is a lucrative property for advertisers to get involved in.
"The brand really understands who they are and if you partner with them, you will know exactly what kind of audience you are going to get," he says.
"I think once you understand that then you can really start to brainstorm what the right opportunities are for the right brands to get involved," he adds. "[Brands] can decide how to get involved beyond the traditional banner ad and sponsorship opportunities, and really get into the story and connect with the audience in a meaningful way."
Di Paola says that the foundation of the DLP program is to connect with entrepreneurs with insightful ideas, which is why MediaCom is a partner.
"MediaCom wants to be more of an ideas-based and insight-based media planning agency and we're looking for those insights and great ideas that come from properties like this," he says. "There are a lot of branded entertainment opportunities coming out of Canada, so this is about recognizing that – getting a first look and really trying to find undiscovered talent in the country and try to help them."
Also in the running for the top prize were Jonathon Robbins, creator of Clutch, a femme-fatale web series that follows the life of a streetwise pickpocket; Jason Leaver, creator of Out With Dad, a Toronto-based web series which is popular in the LGBT community and focuses on the relationship between a father and his daughter; Michael Grand, writer, director and producer of White Collar Post, a documentary series about an aspiring scribe; Nathon Gunn, CEO of Social Game Universe and Igapi, a software development company that focuses on the gamification of sites; and Joel Urnom, director of mobile marketing and partner relations at EMI Music Canada/Mobile Artist, a web destination for independent artists looking to get signed with a major label.
Aside from Di Paola, judges on the panel included Michael Aniballi, VP digital practice, managing director, JWT; Dre Labre, CD, Rethink Toronto; and Ryan Wolman, CD, Henderson Bas Kohn.
Photo: Digital Launch Pad winner Natalie MacNeil with Mark Greenspan, COO of Achilles Media.