MiC's Global Tour: Outdoor/ambient
Michele Pauchuk of MEC gives her thoughts on the latest roundup of international campaigns which include executions from L.L.Bean and Evian.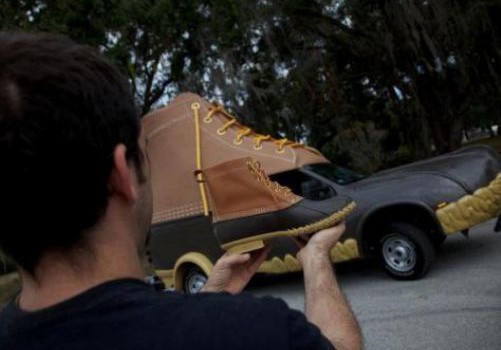 In the second edition of MiC's Global Tour, a regular column focusing on innovative campaigns one platform at a time, we look at a series of outdoor and ambient executions ranging from an oversized L.L.Bean shoe touring the US, to a city-centre scattering of lawn gnomes aimed at creating awareness for German hardware store, Toom der Baumarkt.
MiC asked Michele Pauchuk, President, MEC Canada, for her opinion on the international campaigns and whether or not she felt they were an effective use of the outdoor space.
Germany: Gnomes occupy the city in protest of unkempt lawns
In an effort to create some much-needed attention for its garden centre, Toom der Baumarkt (a chain of hardware stores in Germany) enlisted OgilvyAction to set up a protest where 100 of its gnomes appeared in a city-centre holding signs that griped about the lack of tender loving care of gardens. The signs read, "Seeds Not Weeds," "Pain in the Grass" and "Just Say Mow."
Pauchuk: I think the gnomes are great. The reason I like it is because there was an interaction and a call to action. People picked them up, read what was going on and then drove to store. It's smart. It grabs their attention and makes them do something.
Click here to read the original article.
UK: Evian creates an Alpine experience
If you can't take the people to the mountain, take the mountain to the people. The upscale water brand, Evian, created a place for consumers to escape the noise of the world and find peace in a pink container filled with luxuries such as "snow melt mocktails" and nibbles as they gaze across at virtual views of the Alps. To add to the Alpine experience, the brand brought in some husky puppies for consumers to cuddle up to.
Pauchuk: The idea of using puppies is of course very cute. I would definitely have lined up to see the puppies but not because they were part of an Evian display. I'm not really sure what it has to do with the brand. As a premium price high-end small luxury product I don't think this was an effective tool for selling the brand.
Click here to read the original article.
US: L.L.Bean travels the country by shoe
For a 100-year-old brand, L.L.Bean still knows how to have some fun. In celebration of its anniversary, the outdoor retailer created (by hand, no less) a 13-foot high, 20-foot long "Bootmobile" to travel to New York City's Time Square. Later, the boot made its way across major US cities to inspire people to get outdoors and try something new.
Pauchuk: The L.L. Bean execution is a fun idea, although I am not sure how much it inspired people to get outdoors. I'm not familiar with the brand, so I wouldn't have automatically thought of that, so it could just be a US-centric idea and they probably got it.
Click here to read the original article.
Have you seen something you think we should mention in MiC's Global Tour? Email us at Vmaloney@brunico.com.