Social Media Week digs deep into data
Networked Insights announces the launch of a new analysis tool, and RIM discusses how it uses social for product development.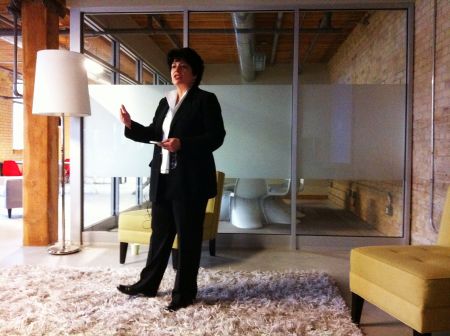 Marketers today have an excessive amount of data, but not nearly enough intelligent insight.
This sentiment, expressed by Sarah Thompson, strategic account director for social data measurement company Networked Insights, at Social Media Week yesterday, reflects the present state of the industry where there is copious amounts of data being gathered on social media but no real understanding of how to make use of it.
Thompson tells MiC that in the next month or so, Networked Insights will have another reliable solution to data insight with its new software, Doppler. The tool will enable marketers to peer through a comprehensive social data microscope to better craft smart marketing plans.
According to Thompson, Doppler clusters information over a period of time, so that users can see how conversation is intertwined.
What looks like a smorgasbord of information hot spots, the chart shows pockets of social conversations that are subscribed to particular brands. Each cluster indicates a different theme and can be delved into further to find out exactly what people are saying in the social space, she says.
For demonstration purposes, a Doppler chart was pulled up on Tim Horton's where Thompson was able to deduce from the trending topics that a large portion of conversation around the coffee brand pertained to its coupons and contests.
Also, a good portion of Twitter users were found talking about what they enjoy eating for breakfast. Thompson suggests that Tim Horton's could benefit from the insight by launching, for instance, a hashtag campaign. There could be a promotion in the mornings where people talk about what they love to eat, she says.
Angela Losasso, director or social media marketing at Research In Motion (pictured), who also presented at the morning session, explained how the Canadian telecommunications co has used social data to its advantage.
As a client of Networked Insights, the company has been able to use its tools to delve into social data to facilitate product development and modification.
Losasso says that when the brand first launched its PlayBook, a lot of social media conversation was around how people were having issues with the power button. Using that insight as an improvement mechanism, she adds, the brand is able to better develop future product offerings.
Marketers tend to place much weight on negative and positive sentiment, but they fail to see the value in neutral sentiment, says Thompson.
"Nobody is saying 'I hate' or 'I love,' but they are saying 'I am frustrated with this and I'm trying to figure it out,' she says, adding that when data was mined for RIM and its BlackBerry smartphones, much of that neutral conversation was found surrounding network providers and the frustration that consumers feel toward certain contracts.
Losasso went on to say that it's this type of insight that can lead the brand to better develop its relationships with their telco partners and help eradicate consumer frustration through product modification.