Cancon champion Pierre Juneau dies
The former head of the CBC and the CRTC played a seminal role in Canadian culture, say friends and colleagues.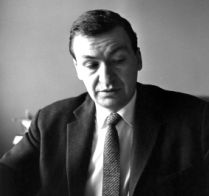 Pierre Juneau, former head of the National Film Board of Canada and the CBC, first chair of the CRTC, and pioneer for Canadian content, died Tuesday, age 89.
His death was met with an immediate outpouring of messages of thanks from the Canadian radio and TV industry, which was very much made and fashioned by Juneau's hand.
"Pierre Juneau made a crucial contribution to the NFB in general and to French production in particular. Under his stewardship, French-language filmmaking thrived, affording great filmmakers opportunities for creation and innovation," Tom Perlmutter, NFB chair and the government film commissioner, said in a statement.
Juneau joined the NFB in 1949 as a Montreal district representative, and moved up to be the film board's director of French-language production.
He was appointed as head of the newly-created CRTC in 1968 by Prime Minister Pierre Elliott Trudeau, where he set about to enforce the 1968 Broadcasting Act in the early 70s mandating the first minimum standards for Cancon, or Canadian-content programming, on Canadian radio and TV services.
"[Juneau] played a seminal role in the promotion of Canadian culture during his many years of public service," acting CRTC chair Leonard Katz said Tuesday in his own statement. "We are especially indebted to the leadership he provided to the CRTC as its first chairman from 1968 to 1975."
Juneau went on to become the chairman of CBC/Radio-Canada between 1982 to 1989.
During his term, he spearheaded the creation of CBC Newsworld, the 24-hour English-language news channel, now called the CBC News Network.
"Pierre Juneau believed in the importance of Canadian culture, and he brought that belief to life in policies that reshaped media in this country," noted Maureen Parker, exec director, Writers Guild of Canada,  in a statement. "He worked to make certain that Canadian artists have a voice in their own country.  He made it possible for Canadians to choose Canadian content in their entertainment."
Juneau was inducted into the Playback Hall of Fame last year. Due to health issues, he ultimately could not attend the ceremony.
"He was really moved by this award  and said, 'why are they giving me an award for something I had to do?'" said Juneau's longtime colleague at the Board of Broadcast Governors, Frank Delaney, who accepted the award on Juneau's behalf.
Juneau received the Order of Canada in 1975 and was elected a member of the Royal Society of Canada, among his many honours.

with files from Etan Vlessing
From Playback Daily