Country Style turns up a new campaign
The QSR is showcasing its $1 million prize in the new campaign for its yearly promotion.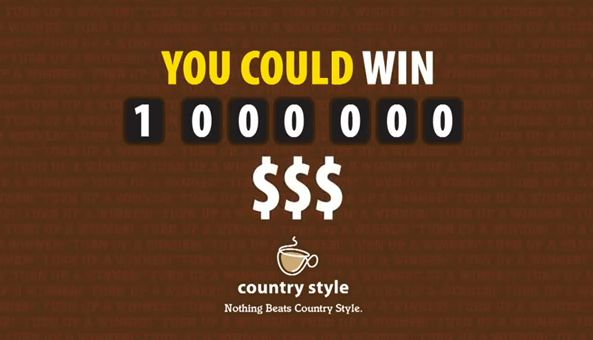 Country Style has upped the ante on its annual "Turn Up a Winner" promotion with a $1 million dollar prize and a new way to win, Rita McParland, VP of marketing, Country Style tells MiC.
Normally consumers turn (not to be confused with rolling the rim) up the top of their cups to reveal if they have won a prize, but with the new $1 million prize added this year, they can also collect pieces from cups to spell out the QSR's new slogan "Nothing Beats Country Style", says McParland.
The new way to win and prize are at the centre of this year's "Turn Up a Winner" campaign, with media by Toronto-based Catalyst 4 Media Marketing Inc. and creative from Rennick, Hoppe & Associates. The multi-platform campaign launched Feb. 13 and runs until April 29, when prizes are no longer available at Country Style, says McParland. It will air on TV stations including CityTV and OMNI Television, on radio stations like Q107 and Virgin Radio, in newspapers like The Toronto Star and Toronto Sun and on OOH billboards across Ontario.
"Our customers are in their cars a lot, so the radio and OOH are important to us," she says. "People make their purchasing decisions while they are in the car, so we want to make sure we covered them. This promotion is an opportunity to invite new Country Style customers through the door. We have expanded our healthy menu, added smoothies, renovated. This gives people the opportunity to see that, while also rewarding current customers."