Facebook launches redesigned pages for brands
Karel Wegert, director, digital solutions at Media Experts, weighs in on the changes and the challenges brands may face using the new Timeline.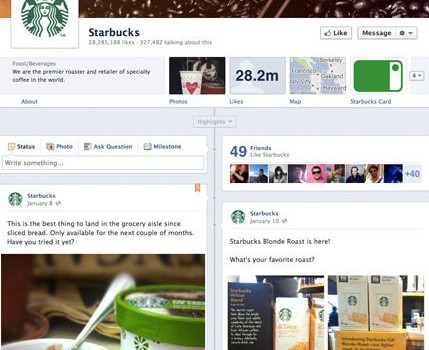 The moment that many have been waiting for has finally arrived, Facebook has launched its Timeline-inspired pages for brands.
The announcement came early Wednesday, timed to coincide with the inaugural Facebook Marketing Conference (fMC) in New York, and since then, the web has been fired up with images of how brands can beautifully craft their own chronological life story for fans to follow along.
Facebook users are by now familiar with the design of the Timeline feature with its large cover photo and ability to search through years of photos, friend interactions and status updates. The updated brand-focused page comes packaged in a similar fashion, but with a few features that Facebook believes will enable a brand to better express their identity and increase their audience reach.
Friend interactions are now spotlighted at the top right corner of the page to show visitors what others have to say about the brand, creating a more personalized feel. Tthere is also a "milestone" feature where key moments (like opening up a new store or acquiring a landmark number of fans) can be tagged with a larger image. If a brand has news that it wants visitors to see for a longer period of time, it can pin that post to sit on the top of the page for longer than seven days.
There is also a new Admin Panel, which gives brands a snapshot of messages and notifications, as well as page insights that show the amount of people talking about the brand, its reach and when that activity occurred in comparison to when the brand posted items.
While the improvementscan benefit brands wanting to paint a better picture of who they are, Karel Wegert, director, digital solutions, Media Experts tells MiC that what is still unfortunately lacking is the capability for brands to organically attract existing fans to the page on an ongoing basis.
He explains that for the longest time, brands would gear their efforts toward acquiring a large fan following. But then the homepage feed of Facebook users started to increase with posts from friends and those pages that they liked. This inevitably caused a cluttered stream of posts with only a small amount of brand posts actually being received by their fans.
There is a way around lost reach, but at a price. Facebook also recently introduced sponsored stories that can be placed on the news feed on desktop and mobile, as well as on the log-out page.
"So now you have to spend money to build your fan base and then you have to spend more money to communicate with that fan base," he says. "It's almost like they've created a toll road, regardless of the fact that you have 50,000 or 100,000 people that have put up their hand to say, 'I like this brand.'"
"They don't see what you have to say after that point unless you want to spend more money to make sure that they see it," he adds. "And that is still, in our eyes as a media agency, the biggest disconnect."
Wegert says that the pages are certainly an improvement of what was there before, but that the biggest challenge for brands right now is learning how to engage their audience to make sure that they see all these nice changes.