Media weigh-in: Weather-triggered activations
Winter? What winter? MiC asked Mike Power at MediaCom and Lynn Mayer at Vizeum to weigh in on the effect of recent wacky weather patterns on OOH planning.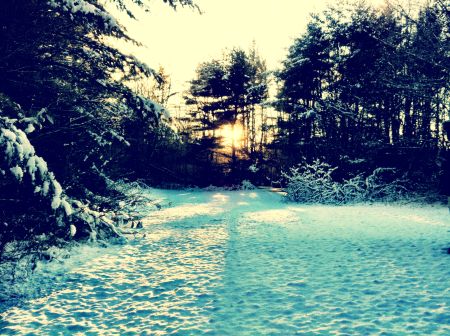 Winter pulled a fast one on us this year. What many forecasters across Canada thought would be a cold and stormy season turned out to be one of the warmest and most pleasant winters in recent memory. Canadians didn't see it coming; much less the brave marketers who planned for weather-triggered activations.
One such promotion that fell into the hands of a temperamental weather week was Campbell's travelling cup of soup. During March break, the brand launched a large portable soup can with the intention of warming the hands of chilly pedestrians in Toronto. Higher than normal temperatures last week resulted in cancelled stops.
MiC was curious to find out how much weather plays into media planning, so we tracked down Mike Power, VP of the strategy and innovation team at MediaCom, as well as Lynn Mayer, VP of business intelligence at Vizeum, to find out their thoughts on weather-dependent advertising.
What are some weather mishaps that you've come across over the years in the biz?
Power: Personally the only "weather mishaps" I've experienced have been cases where we are in market for a sport beverage or a beer client on Victoria Day weekend and the weather can only be described as 'inclement.'  The flipside of that have been occasions, for the same clients, where good weather struck earlier than anticipated and we felt as if we were missing an opportunity to brand ourselves at a critical time.
In these cases, what is usually involved is a whole lot of scrambling.  We try to shift and move campaign weight to run it later in the summer or in some drastic cases, cancel August weight and wait and see where sales come in.  In the cases where the good weather hit earlier than expected, we've also seen a lot of short-term scrambling, which in many cases includes those media that are quickest to get to market with, [being] radio, online and search.
There was a trend a few years ago where clients built weather triggered campaigns.  These are smart, strategic and can be brilliant but only when executed flawlessly. I once had a small client that sold a driveway de-icing product.  Small budget but very effective product – it did its job well.  So, we adopted a 100% weather-triggered initiative that only activated under a very strict criterion of conditions in terms of temperature, forecast, freezing rain or 'snow on the way.'  It took a lot of work and trial and error to get that campaign working. In most cases, the weather-triggered angle proves too cumbersome and unreliable to build a campaign around.
Mayer: Snow tires advertised on sunny spring days, allergy medication commercials airing on suddenly snowy evenings, these are fairly minor and common mishaps. I'm sure there have been occasions where weather-triggered advertising has backfired when the blizzard or heat wave that an advertiser was trying to capitalize upon turns into a weather 'event,' with damage and loss of life.
But it's the missed opportunities that probably outweigh the number of mishaps. For example, there have been demonstrable increases in online shopping (and concurrent decreases for in-store shopping) during periods of terrible weather. If they are nimble enough, retailers can scale the balance of their online and offline communication, and alter the call to action, so they benefit regardless of the weather.
What advice can you give media planners when creating a campaign that may be affected by weather?
Power: You can't plan for everything.  But, you can consider long-term forecasts, maybe even check out the Almanac.  This year's Farmer's Almanac called for a brutally cold and wintery February…so what can you do?  But seriously, the best we can do as planners is to build in as much flexibility as possible to our plans. It means having very good relationships and terms with the media vendors and the foresight to be asking clients the right questions at the right time, instead of having them come to you when it truly is too late to adjust.  In the end, you can control a lot of things, but the weather isn't one of them.
Mayer: Think the way the consumer does. What are the seasonal and weather-related triggers that affect behavior, and how can these be harnessed by media and messaging? For example, on a dismal January day, people are likely musing about getting away to a sunny destination. If so, what's the best way to connect with them and turn these musings into action for your travel client? As they stand on a crowded bus that's delayed, as sit at their computers, as they listen to the radio on the way home from work? Craft a plan that capitalizes on these moments, and uses weather to create immediacy that otherwise might not exist.
And remember, just as in life, the weather may not always cooperate so it pays to have a back-up plan.