Spotted! Mini Canada throws tiny parties
The car co celebrated its 10th birthday with stoplight celebrations in Toronto, Montreal and Vancouver.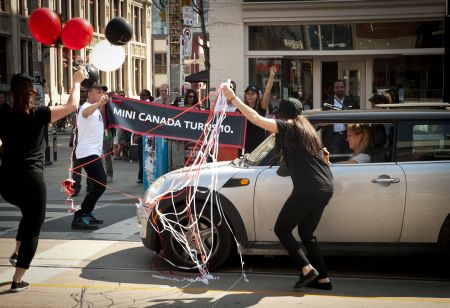 Last week Mini Canada owners were shown some red-light love with impromptu birthday celebrations in Toronto, Montreal and Vancouver to celebrate the car co's 10th anniversary in Canada.
When a Mini Canada driver pulled up to a stoplight, a street team from Taxi 2 and Smak Toronto surrounded the car and busted out a small party, complete with streamers, balloons and music. Once the party was over (when the light turned green), the driver was given a commemorative keychain to thank them for taking part in the celebration.
Lance Martin, executive CD at Taxi 2, tells MiC the celebrations were launched as a way to thank as many Mini Canada drivers as possible for owning the car.
"We started talking about thanking each individual Mini driver personally and then thought, what about going out and trying to thank them one car at a time," he says. "I guess we could have sent an email blast but we wanted to do something personal."