Spotted! The City of Vancouver marks out a warning
To reduce risky behaviour on its streets, the city launched a campaign reaching out to pedestrians, cyclists and drivers.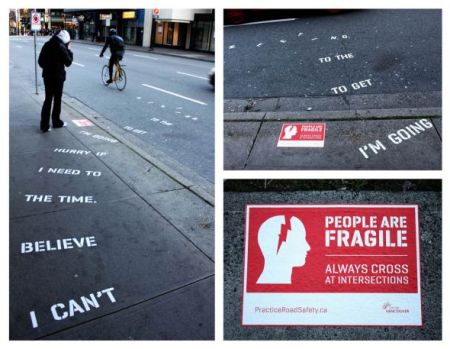 The acts of walking, cycling and driving can be risky business. So much so that the City of Vancouver had creative agency Hot Tomali splash it's streets with attention-grabbing markings. Not the routine cyclist lane or pedestrian crossings, rather, a warning for those who prefer the ease of jaywalking without realizing the dangers involved.
For six weeks, the ambient component of the "People are fragile" campaign aimed to pave the way to reducing risky behavior at high traffic locations in the city, Thomas Stringham, president and creative director, Hot Tomali, tells MiC.
Not singling out pedestrians, the agency also created print material for precarious cyclists and drivers.
There are three main risk groups on the road today, he says, pedestrians who don't cross at intersections, cyclists who run lights and stop signs and drivers who don't yield to pedestrians when at an unmarked crosswalk. So in order to demonstrate the fragility of people, the print creative depicts a family and a cyclist made of porcelain with the warning to either "always yield for pedestrians" or "always stop at sop signs."
The transit posters, Sky Train ads and digital ads on OOH boards in the city were planned and placed by Dinsmore Media.
"We know that a lot of the time when you're trying to change user behaviour that is dangerous or illegal, it can come across as being a 'telling people what to do and follow the rules' kind of an approach, so rather than that, we wanted an emotional appeal," says Stringham.