CBC has its pulse on playoff promotion
The pubcaster has launched Hockey Night Playoff Pulse, a Pinterest page and a national ad campaign spanning print, TV and OOH.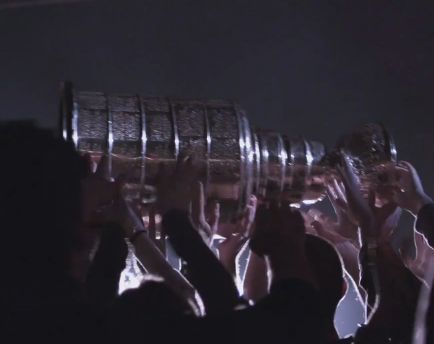 The race for the Stanley Cup has just begun with the CBC making sure it's positioned right at centre ice to watch it unfold.
Yesterday, the broadcaster launched an extensive ad campaign for its Hockey Night in Canada programming and, in an effort to expand on its social media endeavors, a new Hockey Night Playoff Pulse site, along with a Pinterest page.
M2 Universal is behind the media placement of the print, TV and outdoor campaign, with CBC's in-house marketing team handling the creative, Bridget Hoffer, executive director communications, marketing and brand, CBC, tells MiC, adding that the broadcaster also worked with the NHL to come up with the campaign's tagline.
Hoffer explains that the CBC wanted to integrate the hockey league's playoff campaign with its own, and that they collaboratively came up with "Because it doesn't get any bigger than this" for the CBC as an extension of the NHL's "Because it's the Cup." TV spots and quick radio hits during news and sports segments will air on CBC platforms, with OOH ads being placed in provinces across the country, she adds.
Not to be confused with last year's Hockey Night Pulse, an interactive feature that dabbled in the Twitter-verse by aggregating tweets mentioning game moments, the Hockey Night Playoff Pulse is a new social feature that houses in-game polls, live updated leader boards and hockey pools.
To promote the site, ads with QR codes inviting Canadians to participate in its daily polls have been placed in print titles such as the Toronto Star, Globe and Mail, Ottawa Citizen and Metro, says Hoffer. The ad copy is also inspired by the CBC and NHL taglines, reading, "Because your vote counts" and an invitation to, "scan and have your say."
The CBC has also set up its own Pinterest page, specifically for the hockey playoffs, says Hoffer, adding that the broadcaster is hoping visitors will repost its pins of hockey traditions, recipes and CBC-related content such as eccentric clothing worn by Don Cherry and "extend it to make it more their own."
"We're using our traditional media of TV, outdoor and print and then we are really expanding and trying to kick it up in terms of our social media by adding in the Pulse and the Pinterest," says Hoffer. "We wanted a campaign that speaks to the masses and gives us multiple storylines that we can create and move as you go from round one to two and all the way through."
She adds that the new social media page and Playoff Pulse feature is meant to create a "second screen" experience with the goal of reaching both the hockey fanatics and the casual fan.