Bissell goes deep in digital
The carpet cleaning brand has launched a Facebook app that asks users to expose their household stains.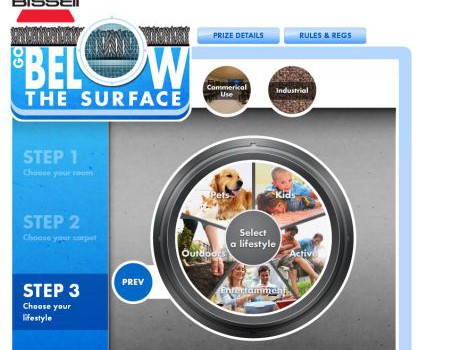 Bissell Canada has gone "below the surface" with a Facebook app (created by Capital C) that identifies the gunk and grime likely sitting beneath and between the strands of household carpets.
Ads on the social media site have been placed by the Toronto-based agency, inviting users to select information about the rooms in their house, their lifestyle and the type of carpet they have to discover what types of stains might be lurking on their floors. App users can then enter to win a scuba diving adventure for two to the Bahamas. The prize is a play on the "go below the surface" tagline, according to a release on the promotion.
Not too long ago, Bissell launched a similar online initiative that encouraged visitors to the "Dirty Little Secrets" microsite to share their own secret stains and carpet messes. Ravi Dalchand, senior brand manager, Bissell Canada, tells MiC that while the idea behind the November program is comparable to the recently launched app; it's the drive to purchase that makes it different.
In the first campaign, Bissell asked visitors to talk about their secret mess, but now the brand is looking to close the loop by educating consumers on stains and the different product solutions it offers, he says. At the end of the app interaction, when the Bissell Carpet Analyzer has listed all of the possible stains, the brand also provides coupons for each of the demonstrated carpet cleaning solutions.
Last year's microsite resulted in a decent increase in Facebook fans, with almost 8,000 Canadians "liking" the Bissell page, but the brand has found the Facebook app to be more effective in increasing its following with the amount of fans already almost doubling since the app launched at the beginning of April, adds Dalchand. The contest will run for eight weeks, ending on May 28.