Score Media looks to be a heavy-hitter with app updates
Dale Fallon, VP digital products, says that the baseball-related updates, aimed at fans and fantasy-league managers, also create new revenue streams.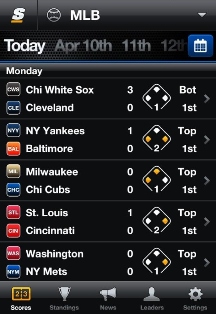 Score Media is getting into the swing of the professional baseball season with the launch of a series of baseball-related updates to its ScoreMobile app.
The updates include a "base runner diamond" feature, Player Card Profile and Team View – all with the fantasy league manager in mind, says Dale Fallon, VP of digital products, Score Media.
The Player Card Profile function works in partnership with baseball fantasy brand Rotowire, creating a feed that lets users see all recent news articles about players on their personal fantasy rosters, and the Team View lets users browse team-specific news and keep track in real-time of team performances, like strikeouts, homeruns and current rankings.
Fallon says that there's a financial incentive to adding extensions to the app, which is offered for free. The updates mean more opportunities for ads and sponsorship, both of which are up for grabs within the app.
Fallon says this can mean long-term sponsor partners – who can, for example, sponsor the baseball season – or shorter-term ad campaigns.
"All of the male-skewing advertising categories that you'd find on a sports television network, you'd probably find on Score Mobile," says Fallon. "So cars, beers, soft drinks."
One of the goals in offering updates to the app, says Fallon, is to utilize and extend the connection between sports fans and their mobile devices, capitalizing on the parameters of the mobile space.
"It's lower fidelity than a big HD TV – the feed of data isn't such a rich pipe, but it's a more constant pipe that spans longer periods of time," he says.
"With a smartphone, it's essentially always [connected] with the interested audience," Fallon says.
The app's push alerts channel – where users sign up to receive alerts for events they'd like to track, and can receive a text message free of charge when a particular game starts, ends or a run is scored – works to maintain the connection between fan and phone, Fallon says.
"We find that it's become a really big part of the way sports fans track events. The phone can sit on the table when you're at dinner, even watching something else on TV, and then buzzes [with alerts] – and that connection has become crucial in the recent past for sports fans and using smartphones," he explains.
Originally, Fallon says, ScoreMobile started out as a brand extension, with the purpose of driving audiences to their other main platforms – ScoreTV and Score.com.
And while TV is still the biggest revenue-generator for their business, he says that with the advertisers and sponsors on board for the app, they have a significant and growing business on ScoreMobile itself.
The original ScoreMedia app and subsequent updates were developed in association with interactive software engineer shop NuLayer, based in Toronto's Liberty Village, in which Score Media owns a 20% minority stake.
"A lot of the time, [the app] is the quick hit of timely information. It's a fantastic channel of communication," he says.
From Playback Daily