The Walrus Foundation gets a soapbox
The non-profit is looking for a presenting sponsor to power its new online forum, the Walrus Soapbox.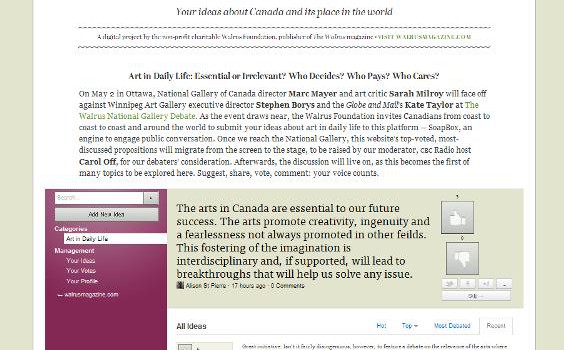 Ever had the urge to stand on a wooden soapbox and belt out an impromptu speech? Well then, The Walrus Foundation has a treat for you.
The non-profit has launched Walrus Soapbox, an online forum where Canadians can voice their opinions and concerns and share a dialogue with other readers of its magazine, Shelley Ambrose, co-publisher, The Walrus magazine and executive director, The Walrus Foundation, tells MiC.
"[The foundation] has a real pointy-headed educational mandate to promote debate that is vital to Canadians. Obviously we do that in the magazine, but that's kind of a one-way conversation, we put it out there," she says.
So the non-profit partnered with HitSend Inc., a start-up that operates out of Ryerson's Digital Media Zone, to create the digital portal that acts as an aggregator of comments posted by visitors and allows others to vote on whether they agree or not. The Walrus will regularly post topics of interest on the site and leave the table open for discussion. The launch topic is on the relevance of art in daily life with some of the comments received over the next two weeks to be referenced during an Ottawa public debate at The Walrus National Gallery on May 2.
Just like its Walrus Laughs website, the foundation is hoping to have the site free of traditional advertising and instead, opt to have a single brand come on as a "powered by" sponsor, says Ambrose. Stella Artois is currently the presenting sponsor of Walruslaughs.ca.
Aside from its magazine and websites mentioned above, The Walrus Foundation also houses online video content at Walrustv.ca. Ambrose says that the non-profit hopes to continue to extend the brand to as many different platforms as possible.