Value Village sets a 5,000-pound goal
The thrift store chain and partner Astral RadioPlus is asking consumers to hand over their favourite items of clothing for its stores.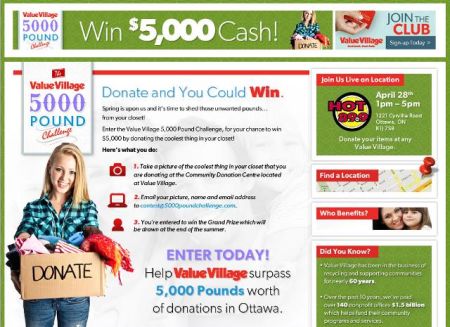 It's time to put your closet on a diet.
Value Village is looking for Canadians to contribute to a second-hand clothing drive that aims to add 5,000 pounds of merchandise to its stores across the country.
The thrift store chain and Vancouver-based media agency Barlow Media first approached Astral RadioPlus last year to come up with a way to help drive more clothing donations to its stores, Melissa Norris, director, national promotions and media creativity, Astral RadioPlus, tells MiC.
With that in mind, the media co came up with the "5,000 Pound Challenge." The competition, which takes place in provinces across the country, asks Canadians to donate one or more of their favourite articles of clothing to a Value Village store to be entered to win $5,000. They are also invited to take a photograph of the item and post it to one of the participating Virgin radio (in Vancouver, Toronto, Edmonton, Calgary and Montreal), K-LITE FM (Hamilton) or Hot 89.9 (Ottawa) websites.
Thirty-second promotional ads, created by Astral to promote the challenge, will air on each of the radio stations as well as ads placed on the station's online properties, she says.
Visitors to the radion station sites are also asked to vote for their favourite posted item of clothing. The person with the most-liked article will be awarded with a cash prize. Value Village in the US is familiar with this type of promotion, having asked its customers to post their Halloween costumes to its Facebook page for the chance to win shopping vouchers.
"We find that with our stations, listeners really respond to those kinds of promotions, whether its cutest pet or cutest outfit," she explains.
"For Astral RadioPlus, this is the largest promotion of its kind that we've done with a partner. It's the largest in scope on a lot of different levels," Norris says, noting that it has never included this many radio stations for a single partner promotion before and that it will not only be an online and in-store execution, but also an experiential one.
On April 28 (and on other dates through to September), the retailer is asking customers to join in handing out clothing at store events in each of the provinces. Photos of the clothing will be taken and posted to the page to be voted on.