Purina and Chatelaine get catty with consumers
Cat enthusiasts can create a personalized cover of the Rogers-owned lifestyle magazine with a competition launched in partnership with the pet food brand.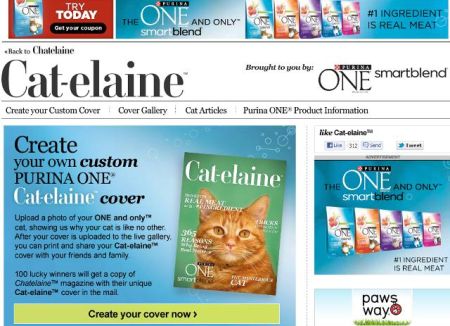 Rogers-owned Chatelaine magazine along with its partner brand Purina One have launched a competition that gives cat owners the chance to see their furry friends on the magazine's front cover.
To have their pet's mug shot splashed across the cover of either the French or English version, consumers must visit the campaign website and upload their pet's photo.
At press time, around 1,200 cover submissions have been made to the campaign site, with only 100 cat covers to be chosen. While the aptly named "Cat-elaine" magazines will not be distributed to the masses, each winner will receive a copy of the personalized publication, printed mid-June, with eight of those winners to receive a year's worth of Purina One Smartblend cat food.
When sitting at the drawing board with Purina One, Jeff Barlow, senior director, innovation, Rogers Publishing's Marketing Solutions, tells MiC the media co looked for ways to uniquely customize its media platforms to engage with female consumers aged 25 to 54.
"We looked at the idea of how to connect a pet owner with our hero product, Purina One, and have it live within our platforms," he says. "And because we were able to blend what the advertiser wanted with owners' love for their pets, we created something unique."
Additional Rogers' platforms are being used to promote the campaign, with ads being placed in magazines such as LOULOU and Hello! Canada, as well as on corresponding digital sites.