Next Media Stars: Laura Ritchie brings Evian to life in Toronto and Montreal
The MPG planner helped boost consumer awareness levels with "Live Young," which just wrapped its second phase.
Every year, MiC and sister publication strategy reach out to the media community to round up the best and brightest young media minds for its Next Media Stars feature. An overall winner will be selected by the strategy Media Agency of the Year jury and announced in the fall. Today, Laura Ritchie talks about her work.
It seems fitting that the lead planner on the Evian "Live Young" campaign is an active sports and health junkie, given that the premium water brand has been chatting up consumers on how to be youthful ever since its animated babies first rolled across our screens in 2009.
MPG planner and baseball fanatic Laura Ritchie entered the media biz in 2010 with her eyes set on building a campaign from the ground up. Within her first year at the agency, she got her wish with the dual task of increasing both top-of-mind awareness and purchase intent for Evian in the Toronto market.
Ritchie just finished wrapping up the second phase of the "Live Young" campaign – the first phase launched in Toronto during the spring of 2011 – with the planner having added a second Canadian market (Montreal), as well as another media platform (print). The creative, developed by Euro RSCG Worldwide and adapted by Sharpe Blackmore, has remained consistent throughout.
If you happened to be in the city this time last year, when the first phase was underway, you most likely saw the youthful imagery of adults wearing headless dancing baby shirts that echoed the brand ethos of "Live Young."
Pre- and post-campaign research from the first leg showed an increase in Evian being the first premium water brand mentioned by consumers (from  11% to 16%), with purchase consideration rising from 51% to 54%.
Ritchie explains that the bottled water brand neglected the French Canadian market in the first phase as the awareness levels were sitting high enough to warrant focusing on Toronto, where consumer knowledge of the brand was second to Montreal.
However, not wanting to hold off on giving Montreal a taste of the brand's droll creative and youthful flair for too long, Ritchie released a salvo of digital and print outdoor ads in commuter areas of the city. Pedestrians were greeted by the latest spin-off version of its "Baby Inside" video at metro stations, with full subway station takeovers as well as digital screens featuring the same big and bold creative, she says.
The intention was to solidify awareness among Montrealers, but Ritchie also needed to drive purchase in Toronto.
Since the city had already witnessed Evian domination last year, with ads in almost every OOH format imaginable to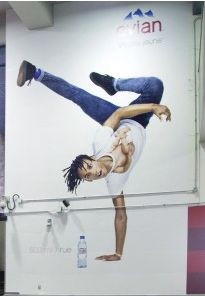 reach a large audience with a small budget, this year a more subtle approach was taken. Ads in the Metro daily newspaper were placed against editorial content that related to health and lifestyle, supporting the "Live Young" message.
"As people [were] commuting to work and reading the Metro, the ad [was] beside an article on how to stay fit this summer," Ritchie explains, further noting that the idea was to excite consumers with "unexpected, yet relevant" creative and messaging, and drive them to purchase moments after they hop off a bus, subway or train with wild postings at nearby convenience stores.
When not giving Evian splashy treatments, Ritchie can also be found arms-deep in work for high-end luxury brands such as Louis Vuitton, Donna Karan New York, Belvedere Vodka and Tag Heuer, with Coppertone being the only other mass consumer brand she directly handles.
The planner says that she takes pleasure from working on both sides of the spectrum, explaining that she is able to bring creative, outside-the-box thinking to the mass consumer brand table while also enjoying the glitz and glamour associated with executions that bring premium brands to life.
Jump to the other Next Media Stars: