Say Media grows a green thumb with Gardenista.com
The digital publishing company has rolled out a new gardening vertical with juice brand, Odwalla, as launch partner.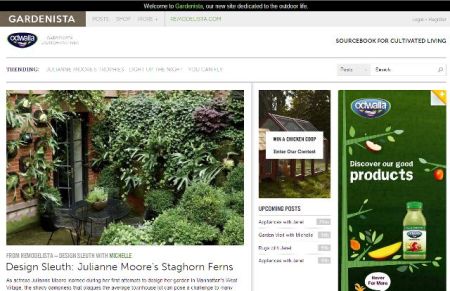 Say Media is churning out fresh gardening and landscaping content for design-conscious readers with the launch of Gardenista.com.
As an extension of the digital publishing company's Remodelista site, the new vertical will provide niche content for those interested in learning the ins and outs of creating and designing a garden.
"Gardening is something that is close to Canadian's hearts and something they're really interested in," Paul Cassar, VP, Canada, Say Media, tells MiC, further explaining that Say Media decided to launch the site after noticing more and more gardening content crop up on Remodelista, particularly on landscaping in Ontario, adding the launch was timely with the start of the outdoor season.
Natural juice producer Odwalla has come on board as the official launch partner of the site and the US brand will be using the platform to further promote its "Goodness" campaign. The page has been integrated with custom editorial ads that show the site's editor, former New York Times columnist Michelle Slatalla, in video tutorials that talk about urban gardening to communicate the brand's message of "goodness grows here."  There is also a rich ad unit on the right hand side of the page that, when hovered over, opens up a box for readers to discover its products.
While there no Canadian advertisers on site as yet, Cassar notes that the publishing company is open to having additional brands come on board within the next few months, once the site has managed to up its traffic. Say Media is offering big box ad units and custom editorial opportunities such as sponsored posts, he adds.
Cassar explains that the page is in line with that of its sister site, Remodelista.com, in that it is "clean, precise and has quick content that resonates with people" which he says gives further footing to its mandate of "passion-based publishing around influential people that have a very strong social graph."