Evergreen wants you to live in a car
The national charity has asked that a Canadian live in its eco-friendly car for an entire month in order to highlight the issue of commuting time in the city.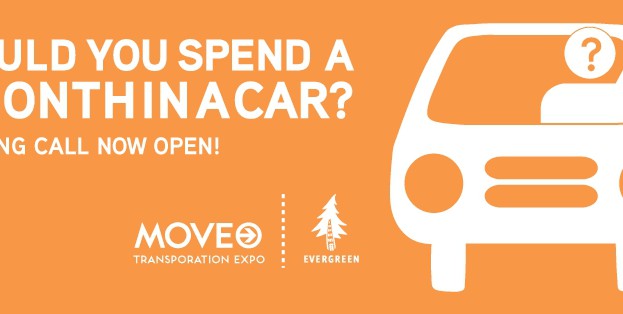 Did you know that the average daily commute time for Torontonians is 80 minutes? National charity organization Evergreen did the math and found that the daily count is comparable to one full month spent in a car each year.
So it decided to do just that, have a single person live in a car for an entire month in the hopes that it can bring the transportation issue to light.
The campaign is also meant to promote the organization's MOVE Expo (which will take place at the Evergreen Brick Works from June 30 through to the end of October) which is being promoted through traditional advertising in the form of print ads placed by Evergreen's in-house marketing team in The Grid, Toronto Star and Metro.
Over the past three weeks, the organization has worked with Rethink – the agency behind the "month in a car" program – to reach out to influential bloggers in the urban planning space and has utilized its social media channels to target those who are most interested in the topic and would be inclined to participate in the initiative, Chris Booth, creative director, Rethink, tells MiC.
Once an applicant is chosen and the month-long stunt begins, the organization plans to push out a heavier and broader marketing plan, he adds.
The selected person, who will call the (yet to be announced) eco-friendly car their home for a month, will be paid a weekly wage of $1,000 and spend their day and nights sleeping, eating and interviewing – on camera – a number of experts in urban planning. Toilet and bathing intervals will be provided of course.
Their job for the four weeks will be to drive around the GTA and create "Passenger Seat" interview-based webisodes that will be placed on Evergreen's Facebook page and YouTube channel, as well as make media appearances, conduct public opinion polls and interact on social media.
"[The Expo] is a summer long expo which will really educate people on the past, present and future of transportation," says Booth. "Generally speaking, a slightly older demo would be really engaged [in the issue]. But we're hoping that this type of campaign has a broader appeal and will be engaging for a much wider audience."
"But really, anyone who has an opinion about transportation [in Toronto] will be drawn to this," he adds.
This isn't the first time we've seen an organization offer a short-term stay in a non-traditional space – just last August, the Vancouver Airport Authority sent one Canadian on an 80-day tour of the YVR airdrome to document his experiences. However this may be slightly more ambitious in its invitation to live in a smaller and more mobile quarter.