Car2go shares the streets of Toronto
The car-sharing company has a multi-platform campaign in market to get consumers revved up for its line of Smart cars prior to its official launch on June 30.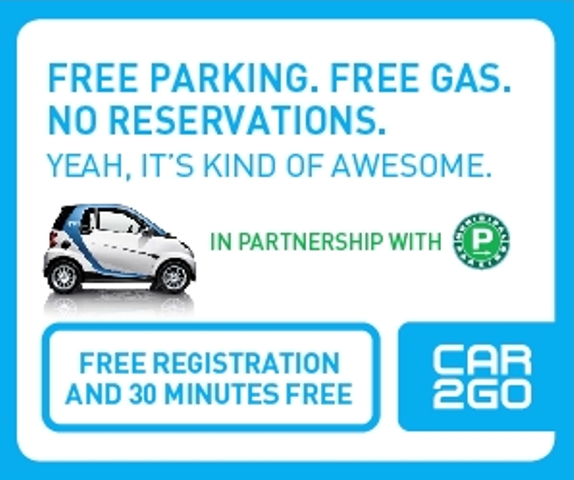 There's a new car-sharing company about to roll into town, and while it waits to mark its territory in Toronto's Green P parking lots, Car2go has placed ads in lifestyle print and digital platforms to introduce itself to urbanites both young and old.
Paul Delong, director of sales and marketing, Car2go (which is headquartered in Austin, Texas), tells MiC that its customers range from 21- to 25-year-old college students to those ages 55 to 65 who have retired and moved to the city in an effort to downsize.
The ads for the teaser campaign were created and placed by US-based Enviromedia Social Marketing and can be seen in community newspapers such as The Grid, websites focused on city content such as the Toronto Standard and the Torontoist, as well as in restobars and elevators.
"We tried to find places where people are looking for what's going on downtown," he adds. "We created imagery to fit into those lifestyles, to show that our brand really mirrors the types of things that they read about."
Before its official launch on June 30 – when the company will claim 250 spots in the city's parking lots for its line of Smart fortwo vehicles – Car2go will have street teams in different locations demonstrating with visual aids how the service works. The same will happen at city festivals such as Toronto's Pride and Jazz Fest later this year.
This isn't the first Canadian city where the company has its vehicles stationed; Vancouver was introduced to Car2go a year ago, and Katie Stafford, communications manager, explains that the company has seen exceptional results from the city.
"They're really focused on the future of the city and bringing in products and services that allows for them to maintain quality of life," she notes of the reasons for its success in the Canadian market. "And one of the things that cities look at when they're trying to become more sustainable is alternative forms of transportation."
She says that while other car-sharing companies (such as Zipcar and Autoshare) are already fixtures in the city, Car2go will differentiate with a business model that resembles that of a bike sharing company where users pay per minute and don't need to reserve the vehicle prior to use.