ZenithOptimedia reviews ad spend forecast
In Cannes, the media co's global CEO Steve King talks about the reasons behind the downgraded estimates.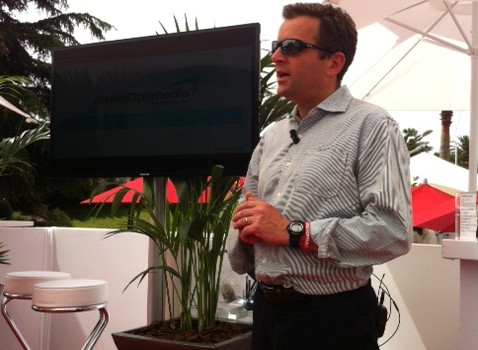 ZenithOptimedia has released its quarterly global ad spend forecast, downgrading it slightly from 4.8% global growth predicted in its last report in February, to 4.3% this week. The North American ad spend is forecast to grow by 3.6% this year.
Steve King, CEO, ZenithOptimedia (pictured) said in a presentation of the results to worldwide industry members during a meeting at the Cannes Festival of Creativity that ad spend always exaggerates what the global economy is doing, whether it is going up or down. The major reason behind the downward forecast is uncertainty in the global economy, particularly in Eurozone countries like Greece and Spain, with the former spending about 60% less on advertising this year than last. Overall, no major global economic recovery is expected until 2014, he says.
King says the reevaluated forecast is the first to be corrected downward in 16 months for Zenith. Keeping ad spend higher than it normally would be under these sorts of economic conditions is what he called "the quadrennial effect," which is the events (worldwide soccer tournament, Olympics and US presidential election) that are expected to add $6.3 billion to the global ad market.
As to where the global ad dollars are being spent, King pointed out that digital is gaining share in almost direct correlation to the speed at which print is losing it. The two platforms seeing major growth in ad spend are TV and digital. King says TV continues to grow at a robust rate due to an increased slate of available programming, as well as consumers choosing to watch TV over other more costly forms of entertainment in this turbulent economic period.
Digital advertising is being led by growth in display ad spend, which is seeing 20% annual growth due to the rapid rise of social media and online video advertising, according to a Zenith release. The display category accounted for 36% of internet advertising in 2011, and by 2014 it is expected to increase to 40% share of the digital ad spend pie. Canada is one of six markets worldwide (the others being Denmark, Norway, South Korea, Sweden and the UK), where internet advertising accounts for more than 25% of all ad spend. By 2014 Zenith expects that Canada will be spending more than 30% of ad spend on internet advertising.