Spotted! Scattered pianos and giant window portraits
The Pan Am Games launched its countdown by unveiling a street piano project and photographs of immigrants on City Hall windows.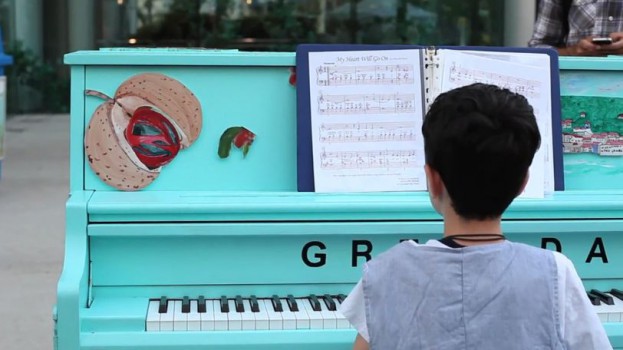 Toronto by definition is a diverse and multicultural city, and it's living up to its reputation in the name of the 2015 Pan Am/ Parapan Am Games with the unveiling of two new cultural projects at yesterday's start of a three-year countdown to the competition.
The organizing committee for the Games has launched "Play Me, I'm Yours" – a street project that involves the placement of 41 different pianos – each painted by a local, professional artist with roots in one of the 41 participating countries in different areas of the city (from places like the TIFF Bell Light box and Nathan Phillips Square to Sick Kids Hospital and Pearson International Airport). Passersby are encouraged to play the pianos and upload photos and video to the "Play Me, I'm Yours" website.
The reveal of all 41 decorated pianos, which are sponsored by the 2015 Pan Am/ Parapan Am Games lead sponsor CIBC, happened last night in Toronto's David Pecaut Square as a part of the countdown celebrations. CIBC was also on-site with a violin quartet, who were accompanied by performances from youth and professional piano players.
A second reveal yesterday at Toronto's City Hall came in the form of a photographic installation entitled "Fresh Eyes", created by a group of Toronto artists with a digital showcase of the work on Arrivals.ca. Large printed images of immigrants, primarily from the Pan American nations, were placed on city councilors' office windows with the message of them being able to look through the eyes of those have made a home for themselves in Canada.
The Toronto Star has also got itself involved in the cultural efforts with a "Births, Deaths, Arrivals" feature in the newspaper's obits section from July 10 to 30, and will profile people who have come to Canada with stories and portraits.
"It's important for the city to become aware and engaged with the fact that in three years today, we'll be doing the opening ceremonies for the Pan Am games," Louise Luthgtens, senior VP community affairs, TO2015, tells MiC. "The events are meant to celebrate that and pull Toronto's cultural identity together."
Videography by Ryan Walker, editing by Jennifer Horn