Nascar Canada enlists a wingman
The auto racing association signed the soon-to-be-launched purveyor of chicken wings, Pinty's Delicious Foods, as a sponsor of three of its events.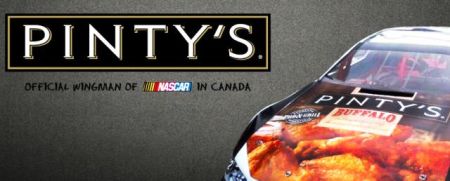 Though its specialty is poultry, Pinty's Delicious Foods is setting out to prove that it's no chicken when it comes to being on a Nascar race track. The Canadian-born company has locked in a three-year contract with the racing association and plans to ruffle some feathers with an activation that Richard Coughlin, director of sponsorship and licensing, Nascar, tells MiC is unlike other sponsorships he's seen.
Working in collaboration, Pinty's and Nascar Canada came up with the Official Wingman Award – a weekly recognition that goes to the chief of the crew that performs the best, based on the average of the qualifying results. "It's a great tie-in from a branding and marketing perspective. I think it's a unique way to bring the brand characteristic into the heart of the sponsorship and make it play out on the race tracks," he notes, adding that the award has potential for social media integration, something Pinty's plans to play with a lot more going forward as it builds the brand.
Pinty's shelf date for its soon-to-be-launched chicken wings is Aug. 1. And even through the brand struck a sponsorship deal with Nascar some time ago (to be a part of its Canadian Tire Series), activation started weeks after the competition began so that it could foster brand presence right before launch of the wings, says Coughlin.
Chicken wings and car racing goes hand-in-hand, with Coughlin adding that families and groups of friends (especially men between age 25 and 54, where 60% of the Nascar audience sits) watch the series from their home. Further down the line, the brand plans to incorporate chicken recipes for specific races and ways to "spice up the viewing environment at home."
Further, Pinty's will have sponsorship of other racing events such as the Nascar Spring Cup Series and the Nascar Worldwide Series. At the Canadian Tire Series, Pinty's will also have giveaways and interactive displays on-site and is also sponsoring the Nascar Race Report on TSN's Sportscentre, which is released every Friday before the weekend races begin.