Tweeting the blues with Tourism Burnaby
To spark interest in the Burnaby Blues and Roots Festival, the tourism co has launched an initiative that turns tweets into live-streamed songs.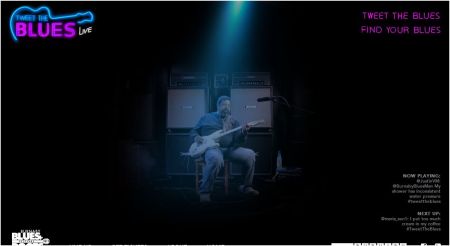 Does the song title "My shower has inconsistent water pressure" sound like a rhythm & blues hit to you? Thanks to the Burnaby Blues and Roots Festival it could be, as all of one's troubles (posted on Twitter) can now be adapted to music and played off the cuff by a musician and streamed online.
The social media-based initiative was created by ad agency Spring after Tourism Burnaby approached them with the task of engineering an attention-grabbing stunt on a limited budget, Ben Hudson, copywriter, Spring, tells MiC. Tourism Burnaby organizes the music festival each year, along with concert promoter Live Nation.
Each time a person tweets with the hashtag #tweettheblues, bluesman Jimmy D. Lane will create an impromptu song using the short-copy text as inspiration. Yesterday the microsite launched, hitting the 100 submission mark within four hours. Lane will continue remixing social media commentary until Friday afternoon.
"We're trying to use social media to its maximum capacity and not gobble up money in the traditional sphere," says Hudson. "The gap between social media ideas and making them work can sometimes be a wide one, this is certainly breaking new ground for the festival and Tourism Burnaby."
Given the nature of the platform being used, the "Tweet The Blues" initiative certainly skews towards a younger audience, says Matthew Coyne, executive director, Tourism Burnaby.
"Having said that, the boomers and 50-plus are a growing audience with social media, and with our online [advertising] we also segment our [audience] by interest, so we look at genres of music and target that way," he says, adding that in addition to the microsite, the festival will have traditional advertising in a variety of mediums.
Such advertising includes print ads in the Vancouver Sun and Georgia Straight, as well as radio spots and online placement on sites such as the Weather Network and Facebook, he says. All media planning and development of the campaign was handled by Live Nation in conjunction with Tourism Burnaby.