Bleublancrouge takes Best of Show at the Extra Awards
The agency also won Gold for the Montreal Gazette's "Tweet Edition" campaign at Newspapers Canada's annual awards for creativity in newspaper advertising.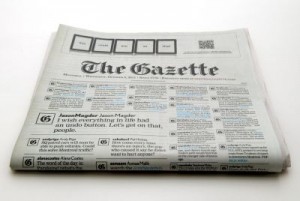 Newspapers Canada has announced the winners of the 2012 Extra Awards this morning, with Bleublancrouge snagging Best of Show and Gold for its work for The Gazette's "Tweet Edition."
The annual awards recognize the best creative print and digital ads in both daily and community newspapers.
Rethink received the most nods out of the 15 agencies acknowledged this year, taking home three Gold awards as well as a Bronze and two Honourable Mentions.
Gold award winners:
Rethink:
Playland "Falcon"
Playland "Pigeon"
Metro "Shareability scale"
Lg2:
Sears Optical "Nail/Clover/Match" campaign (won in two categories)
Target Marketing:
Newfoundland & Labrador Tourism "Iceberg Alley/Hiking/Secret Place/Iceberg/Big Land" campaign
Newfoundland & Labrador Tourism "Find Yourself" campaign
Cossette:
McDonald's "Straw"
Leo Burnett:
Raising the Roof "Job/Help/Outside/Dog" campaign
Silver award winners:
Dare:
BC Honda Dealers "See what's behind you"
Amour "Golf"
Juniper Park:
Canadian Journalists for Free Expression "Lasantha/Anna/Tara" campaign
Bronze award winners:
Rethink:
Muskoka Brewery "Cream Ale/Mad Tom" campaign
Lg2:
Société de l'assurance automobile du Québec "Pavement Shreds" online
Cossette:
Julyna "C-word/Sun don't shine/Woo-hoo" campaign
ANEB (Anorexie et boulimie Quebéc) "Distorsion cuillère/Distorsion couvercle" campaign
Leo Burnett:
Ikea "Prices have fallen"
Honourable Mentions:
Rethink:
Metro "Sharability graph"
Metro "Sharability : scale and graph"
Target Marketing:
Newfoundland and Labrador Tourism "Find Yourself" online
Leo Burnett:
Flight Network "Paper Airplane"
Dentsu Bos:
CAMH (Centre for Addiction and Mental Health) "Night out/In your head/Change of scenery" campaign
Église Catholique de Montréal "Prions"
Agency59:
Buskerfest "Buskers are coming (x2)" campaign
BBDO Toronto:
Mercedes-Benz Canada "Fingerprints"
Ogilvy & Mather:
Unilever Dove "Upside down"
Revolve:
The Chronicle Herald – Herald Business "The Chronicle Herald business takeover" online
Taxi Toronto:
Hockey Hall of Fame "Dead dreams (x2)" campaign
Wax:
Honda Prairie Dealers Association "Soft sell event"