The Walrus Foundation amalgamates its content
Readers are now being served all of the non-profit's offerings on a single platter with the relaunch and optimization of its website.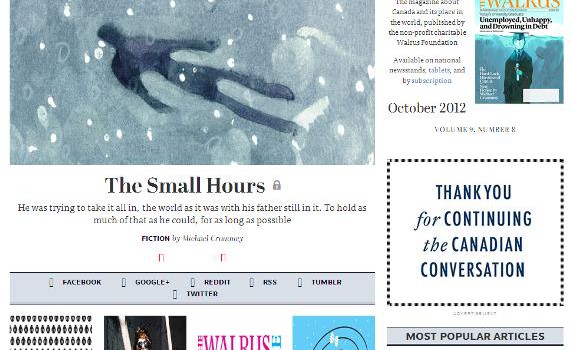 The Walrus Foundation is one busy bee. This year alone the non-profit started speaking to readers using an online TV station, a social-heavy web portal and a platform dedicated to poking fun at anything and everything.
The hitch used to be that people were required to visit separate domains to access the content. But no longer, as this week the foundation relaunched its magazine online hub to become TheWalrus.ca (formerly WalrusMagazine.com) and house all of its platforms, projects and national events in a single space.
"We needed a shift in philosophy," Matthew McKinnon, online editor, Walrus magazine, tells MiC. "Walrusmagazine.com made sense when a magazine was the only thing the Walrus Foundation did. But that was a long time ago, and the Foundation has since become active on many more fronts."
Plus, the site is now optimized to fit any size screen and comes with new features, such as suggested reading and filtered searches as well as a pop-up subscribe window. In addition to the design, new non-intrusive ad units were added for advertisers to have a better presence on the page.
The leaderboard spot has been scraped, says Joseph Connelly, account manager, Walrus magazine, and a half page "sticky" box, a medium rectangle, three footer units and a "read more" article ad spot is now available for advertisers to use.